Instagram:
@vals421
Twitter:
@vals421
Tumblr:
www.vals421.tumblr.com
Behance:
www.behance.net/valerialvarez
Dribbble:
www.dribbble.com/vals421
1. What's your story? Where are you from?
Hey, I'm Vals but my full name is Valeria Alvarez Mendoza. I live in Mexico City and I'm a freelance illustrator. Hola, soy Vals aunque mi nombre completo es Valeria Alvarez Mendoza. Vivo en la Ciudad de México y soy una ilustradora freelance.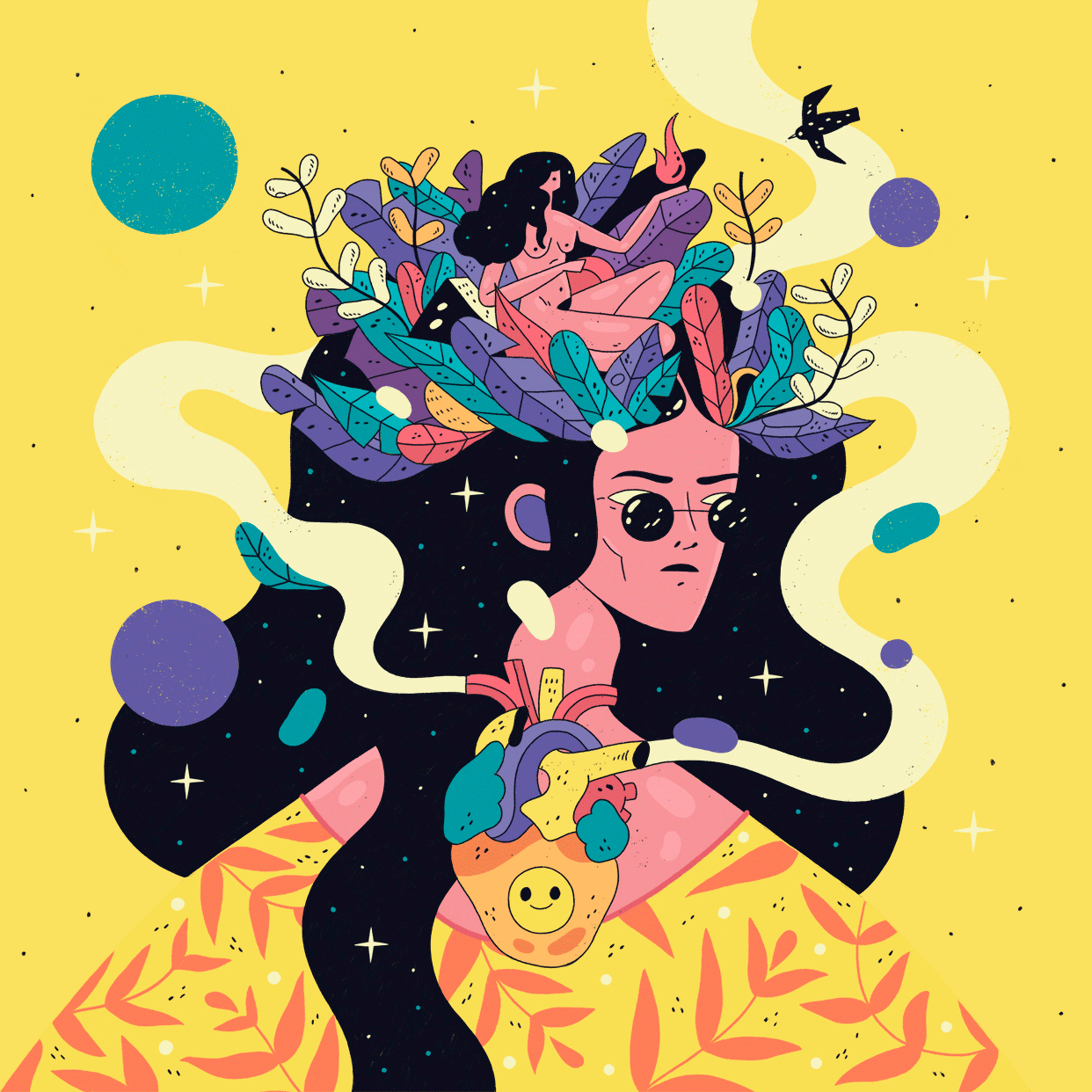 2. Tell us about your aesthetic.
I really like to represent the female figure, the abandoned places, the vegetation and the ufo themes with a surreal touch. At this moment I work with a totally digital style, full of many details and organic forms, most of the time with a limited color palette. Me gusta representar la figura femenina, lugares abandonados, vegetación y temas ufo con un tono surreal. En este momento trabajo con un estilo totalmente digital, con muchos detalles y formas orgánicas, generalmente con una paleta de color limitada.
3. What is your favourite medium and why?
I had different favorite stages. One was to work with ink, although at this moment I like to work a lot digitally. My favorite program is Photoshop, I like it because of the naturalness of the stroke. Lately, I work the sketches in the Procreate application and then I export that file to Photoshop, to work with the final finishes and color. He tenido varias etapas favoritas. Una fue trabajar con tinta, aunque en este momento me gusta trabajar digitalmente. Me gusta mucho Photoshop, sobretodo por la naturalidad del trazo. Últimamente trabajo los bocetos con la app Procreate, luego exporto el archivo a Photoshop para trabajar acabados finales y color.
4. What is your artistic process like?
Sometimes I like to write short stories and take notes from there for my sketches. First on paper, then I draw them in digital format to add details, correct errors and work on the color. For me, making the sketch is the longest stage, because I like to leave the composition as complete as possible. Then, I have the file 1_sketch.psd, 2_sketch.psd ... A veces me gusta escribir historias cortas y tomar notas para mis bocetos. Primero en papel, luego los dibujo en digital. Ahí agrego detalles, modifico errores y trabajo el color. Para mí, hacer el boceto es la etapa de mayor duración, porque me gusta dejar la composición casi terminada. Entonces, tengo el archivo 1_boceto.psd, 2_boceto.psd ...
5. Who and/or what inspires your work?
I am inspired by nature, music, places I visit, some stories and dreams. Sometimes I like to walk around the city listening to music. And see the work of other people who influence me directly or indirectly, such as Remedios Varo, Felix Colgrave, Chabaski or Yujinsick (the list is very long) Me inspira la naturaleza, música, lugares que visito, algunas historias y sueños. A veces me gusta caminar por la ciudad mientras escucho música. Y ver el trabajo de otras personas que me han influido directa o indirectamente, como Remedios Varo, Felix Colgrave, Chabaski o Yujinsick (la lista es muy larga)
6. What role does art play in your life? How does it change the way you view the world?
Since I discovered my love for drawing, it has become one of the central points of my life, which grows with time more and more. I like to admire the art of the people around me because we all feel things differently. Art is a way of knowing myself, finding my place and expressing myself more sincerely, beyond words. Desde que descubrí mi amor por el dibujo, se ha convertido en uno de los puntos centrales de mi vida, que va creciendo cada vez más con el tiempo. Me gusta admirar el arte de las personas que me rodean, porque todos sentimos las cosas de forma diferente. El arte es una forma de conocerme, encontrar mi lugar y expresar lo que siento sinceramente, más allá de las palabras.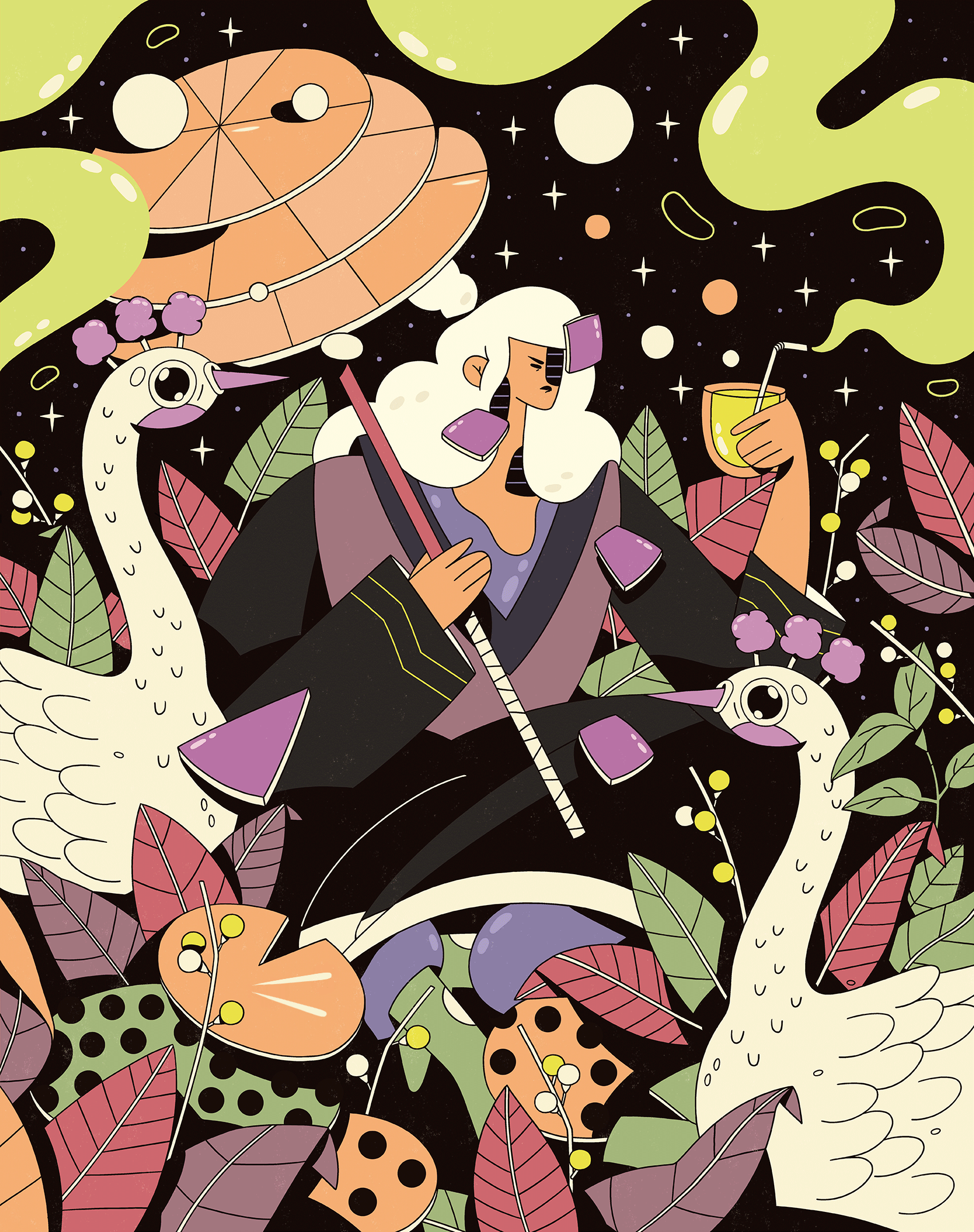 7. Where did you study?
In the Faculty of Arts and Design of the UNAM, in that place I studied design and visual communication, I majored in illustration. En la Facultad de Artes y Diseño de la UNAM. Ahí estudié diseño y comunicación visual, con especialidad en Ilustración.
8. Where do you see yourself in five years?
Finding stability in my personal and professional life. As for projects, maybe at that time I managed to publish my first illustrated album, about a story that I am now working on. And for that moment I hope to live with freelance illustration and tattoo projects Encontrando estabilidad en mi vida personal y profesional. En cuanto a proyectos, quizá en ese tiempo logre publicar mi primer álbum ilustrado, sobre una historia que ahora estoy trabajando. También espero vivir como tatuadora y con proyectos de ilustración freelance.
9. What about in ten?
Uff! It's too much time! I see myself living in a small mountain playing my guitar, enjoying life :) ¡Uff! ¡Es demasiado tiempo! Me veo viviendo en una montañita tocando mi guitarra, disfrutando de la vida :)
10. What do you hope to achieve with your art?
Illustration has become the main way I have to communicate with the world. I hope to reach a point where I feel satisfied with the art I do, enjoying that process. I would also like more people to know my illustrations and influence their lives, just as I admire the work of many artists and enrich my style. For now, I want to continue distributing my work and living economically from this. La ilustración se ha convertido en la principal forma que tengo de comunicarme con el mundo. Espero llegar a un punto donde me sienta satisfecha con el arte que hago, disfrutando de ese proceso. También quiero que más personas conozcan mis ilustraciones y que tengan una influencia en sus vidas, así como yo admiro el trabajo de muchos artistas y enriquezco mi estilo. Por ahora quiero seguir distribuyendo mi trabajo y viviendo económicamente de esto.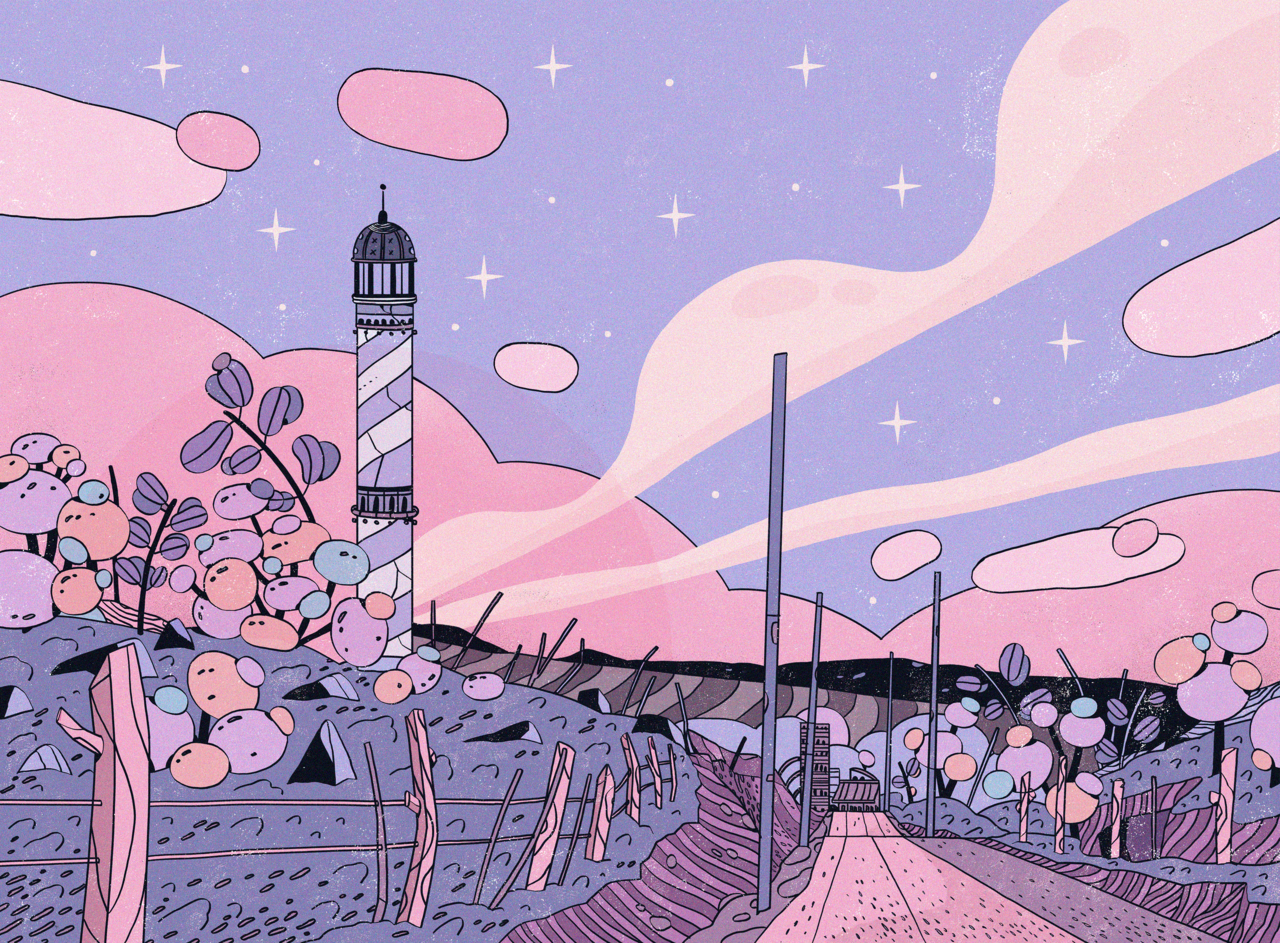 11. Now, tell us a little more about you as a person: what is your favourite food?
Definitely enchiladas de mole with a mezcal to accompany. But I also have a tattoo that says "give me pizza" haha. Definitivamente unas enchiladas de mole con mezcal para acompañar. Pero también tengo un tatuaje que dice "dame pizza" jaja.
12. Favourite book?
I will mention some books that I like. I like the genre of cosmic horror, so I like several Lovecraft stories, for example, "At the Mountains of Madness" or "The horror in the museum" in collaboration with Hazel Heald. I also like "Vulthoom" by Clark Ashton Smith. Some illustrated books have influenced my life, for example, "Coraline" by Neil Gaiman, "The duck and death" by Wolf Erlbruch, "Beautiful loneliness" by Jimmy Liao, "The Lost Thing" by Shaun Tan or the version of Alice in Wonderland illustrated by Rébecca Deutremer. And I love the trilogy of "The Hunger Games" by Suzanne Collins Mencionaré algunos libros que me gustan. Me agrada el género de horror cósmico, por lo que me gustan algunas historias de Lovecraft, por ejemplo "En las montañas de la locura" o "El horror en el museo" en colaboración con Hazel Heald. También me agrada ""Vulthoom" de Clark Ashton Smith. Algunos libros ilustrados han influido en mi vida, por ejemplo "Coraline" de Neil Gaiman, "El pato y la muerte" de Wolf Erlbruch, "Hermosa soledad" de Jimmy Liao, "La cosa perdida" de Shaun Tan o la versión de Alicia en el país de las maravillas ilustrada por Rébecca Deutremer. También amo la trilogía de "Los juegos del hambre" por Suzanne Collins.
13. Favourite genre of music?
I like the dreampop, surf rock, a lot of indie... In my playlist, you can find groups or artists such as Warpaint, Peach Creeks, Still Corners, Florence and the Machine, Natalia Lafourcade, BeeGees or Juan Gabriel. Me gusta el dreampop, surf rock, mucho indie... En mi playlist pueden encontrar grupos o artistas como Warpaint, Peach Creeks, Still Corners, Florence and the Machine, Natalia Lafourcade, BeeGees o Juan Gabriel.
14. What are your hobbies?
I like to juggle with three balls, listen to music and play video games, especially those that have to do with zombies or infected people (I have on my arm the tattoo that Ellie has on "The last of us, part II"), but I like Minecraft too haha. Me gusta hacer malabares con tres pelotas, escuchar música y jugar videojuegos, especialmente los que tienen que ver con zombies o personas infectadas (tengo en mi brazo el tatuaje que lleva Ellie en "The last of us, part II"), pero también amo minecraft jaja.
15. If you weren't an artist, what would you be?
One of my dreams is to make music, although it is difficult to imagine anything other than the illustration. Uno de mis sueños es hacer música, aunque es difícil imaginarme en otra cosa que no sea ilustración.