Instagram:
@visualpotions
Website:
www.visualpotions.com
1. What's your story? Where are you from?
My name is Nathalie Huijbers and I come from the Netherlands. On a daily basis, I'm a graphic designer with a big love for anything ethereal. Most people will know me from Instagram as
@visualpotions
.
2. Tell us about your aesthetic.
I always aim to create an either surreal, ethereal, magic, trippy or all of them combined type of world into the existing world. In the worlds, I create you often see elements from the sky like clouds, space, stars, galaxies, sunsets and other nature elements. Often I use the moon in my pieces as either the main focus or as a detail. I have always felt attracted to the moon in some way and just can't help using it in most of my works. To me, the moon gives off this feeling of pure tranquility and ethereal experience. Most of my works are evening/night themed or close to dusk.
3. What is your favourite medium and why?
I think my favorite medium is Photoshop, but I never want to limit myself to one medium. Sometimes I use Illustrator too to achieve a certain effect. But in all honesty, to me, Photoshop is the best tool to express myself in and visualize the worlds I create in my head.
4. What is your artistic process like?
I always have to enter into a certain vibe to create something and get lost in that moment. When I'm creating, people can talk to me about whatever they want, but often I'm so lost in the experience of creating that I'm actually not a part of the conversation at all, oops! I have my own playlist on YouTube I often use while creating, have my favorite tea and start gathering images. I try to make stuff based on how I feel at that moment, what colors I can relate too most at this moment and just what feels right to me in that specific moment. It's all based on mood, vibe and feelings.
5. Who and/or what inspires your work?
I think that must be a combination of nature, space and fantasy. I always look around at things thinking: 'How can I change this into my own world and pull the audience into it?'
6. What role does art play in your life? How does it change the way you view the world?
I think when I started creating collages and visuals it made me more calm, confident and realize what I really liked doing in life and whatnot. Art makes the world a bit more interesting and beautiful in my opinion.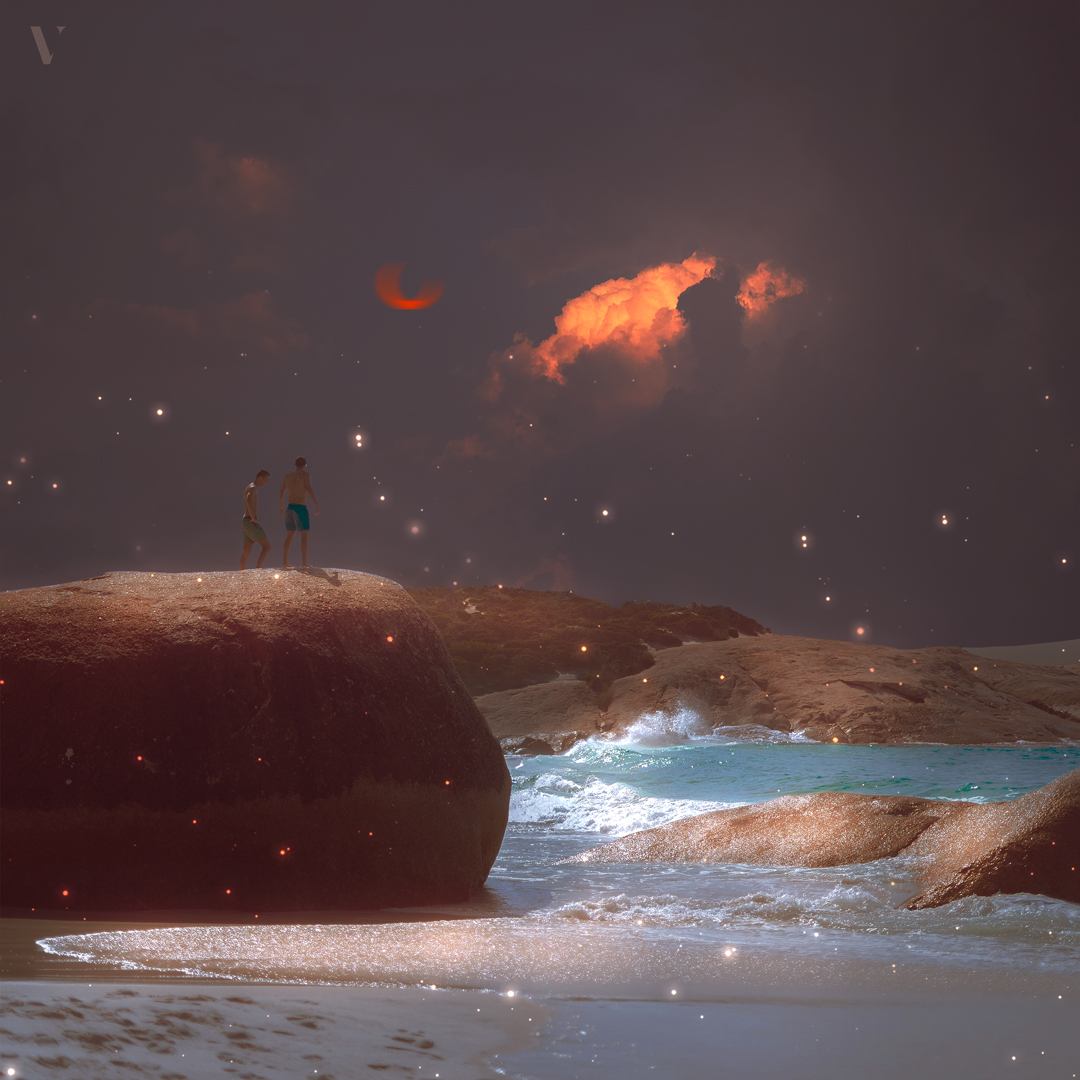 7. Where did you study?
I studied Media & Design in my hometown in the Netherlands.
8. Where do you see yourself in five years?
I hope as a full-time artist with my own company/brand, still creating things with lots of joy and seeing my artworks hanging on the walls of people's homes.
9. What about in ten?
Oh my, that is so far away. I think dreaming is good, but I also really strive to enjoy the current moments and focus on the present time. I hope to be still doing what I like, to be more confident and grow in whatever I am doing at that moment.
10. What do you hope to achieve with your art?
I hope to give people a certain experience with my art and pull them into the moment.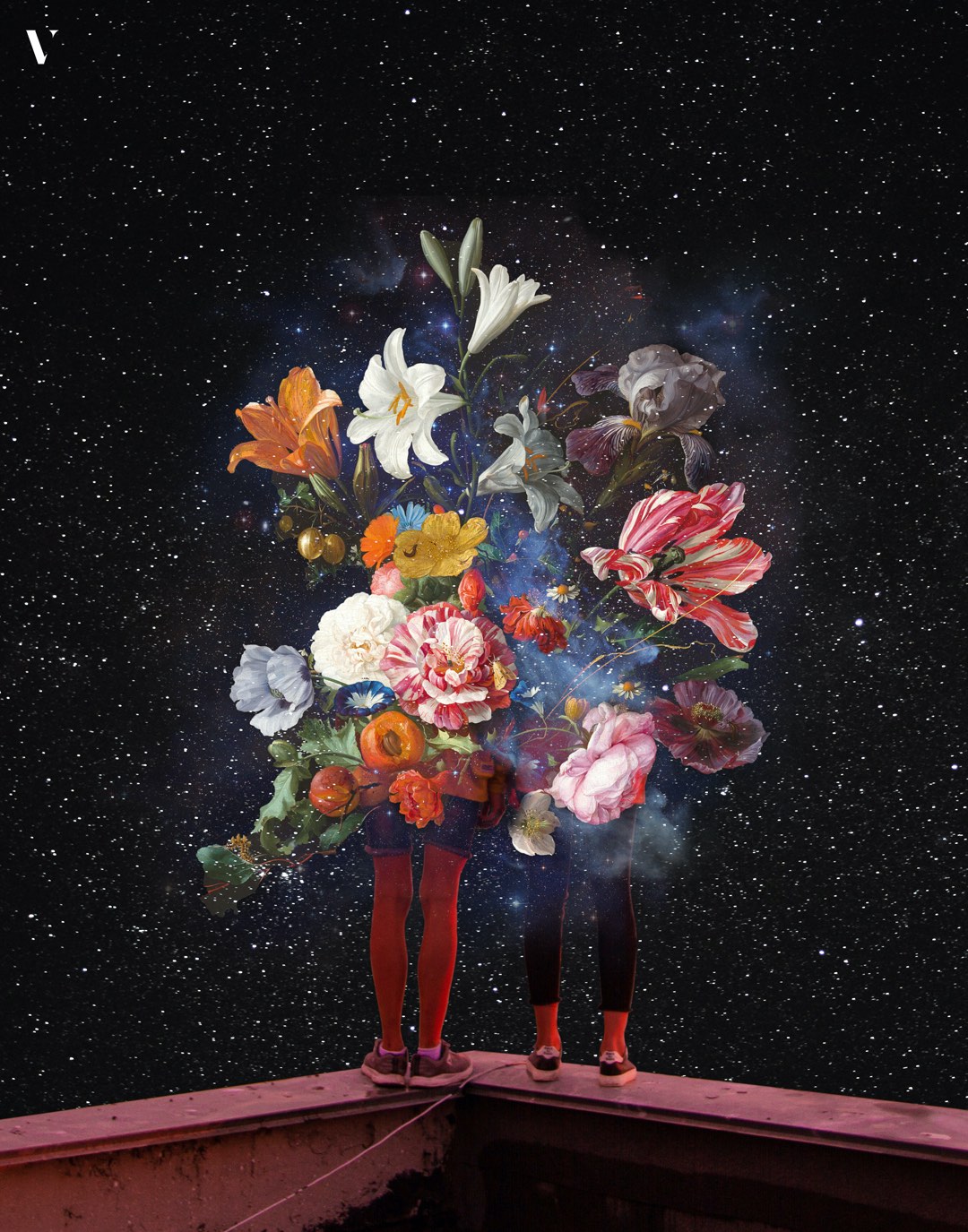 11. Now, tell us a little more about you as a person: what is your favourite food?
Honestly, I just love junk food, especially fries. But I like many kinds of food. My preference goes to the Italian kitchen, pizza and pasta <3
12. Favourite book?
Definitely Brief Answers to the Big Questions by Stephen Hawking and all his other theoretical books. I love anything related to the unknown, space-related stuff and the existence of everything. I also really love sci-fi & fantasy books with a touch of drama.
13. Favourite genre of music?
I love so many types of music, but I especially love the relaxing type of electronic / dance music.
14. What are your hobbies?
Obviously creating visuals and collages, walking with my dog, traveling and good food.
15. If you weren't an artist, what would you be?
I think I would do something that is more related to the medical side, either for humans or animals. I have always found skincare and issues regarding the skin of an interesting medical subject.