Instagram:
@vivian.mineker
Facebook:
www.facebook.com/vivian.mineker
Tumblr:
mineker.tumblr.com
Etsy:
www.etsy.com/shop/VivianMineker
Website:
www.vivianmineker.com
1. What's your story? Where are you from?
I was born in New York, raised in Taipei and later moved back to the States to Portland, Oregon, and right now I live in Slovenia (you might have to google it lol). I started working as a freelance illustrator about two years ago, after quitting a job of almost nine years at a big company, because I wasn't doing what I wanted to do, I wasn't creating anything I was proud of or that made me happy so I decided to take a chance on doing what I love and always wanted to do, and right now I'm very happy about that decision!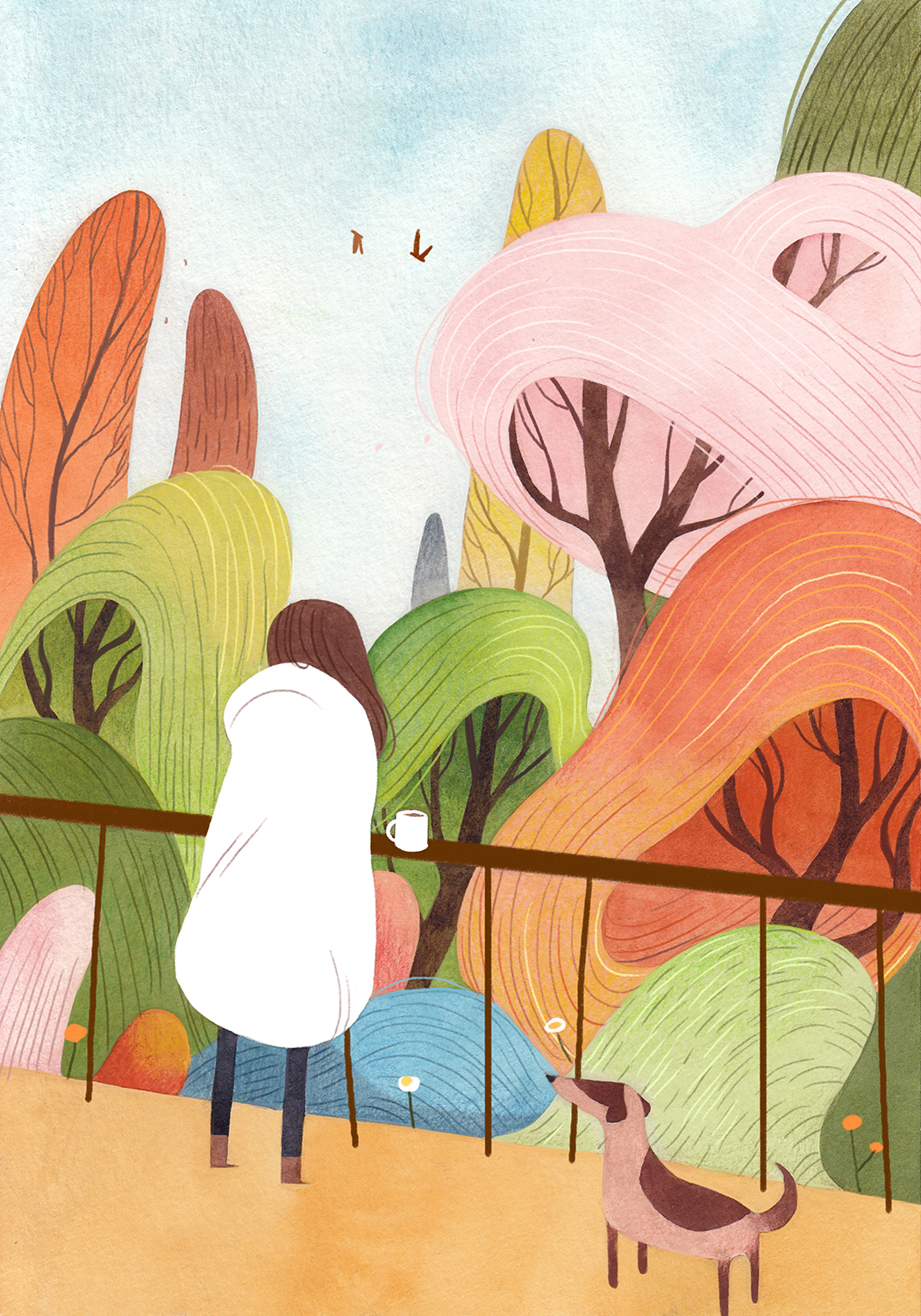 2. Tell us about your aesthetic.
I'm a sucker for shapes. I love it when different shapes come together to form something coherent and interesting, from big shapes to small ones. I feel like as humans, we naturally look at the big picture first, we scan the scene, and if there's something interesting or catches the eye, you look into the details — and that's how I feel about illustrations. It always starts with the big overall shapes and once you catch people's attention, you draw them into the little details that you sprinkled all over the place, the little things that really tell a story.
3. What is your favourite medium and why?
Watercolor for sure, I use it in all of my work. It's just such a beautiful medium, and versatile too. Also I love the fact that it kind of has a mind of its own. You never really know how exactly it's gonna turn out because water is unpredictable, and I love that. The unpredictability sometimes creates such beautiful and authentic textures, you can't plan or fake those, it creates a warm and nostalgic feeling that really helps the piece connect with people emotionally.
4. What is your artistic process like?
I usually start with a very vague mental picture after given or coming up with a general idea and some details. Then I start sketching, I draw multiple sketches working from that idea to come up with composition and details. After that I color it with watercolor and some colored pencils, then scanning it in and add some finishing touches in the computer (Photoshop to be exact).
5. Who and/or what inspires your work?
So many things and people inspire me all the time! I follow many amazing artists on social media and I'm awed everyday by the quality works that are coming out and it really pushes me to get better myself. But as far as my own work, I draw most of my inspirations from what's around me, trees, lakes, mountains, people in the park, my dog etc. And also from within, from how these things make me feel, and my own emotions. I try to put all that into my work, hoping that people could feel a connection or relate to them emotionally.
6. What role does art play in your life? How does it change the way you view the world?
It's definitely one of the most important things in my life. It's always been the way that I get to express myself the best, and a place that I can go to that's completely my own. Whenever I feel a certain way or see a certain thing that inspires me, I draw it. Whenever I have a story or an image in my head, I draw it. I'm not sure how it changes me since it's always been this way, but I imagine I would be very sad if it wasn't the case anymore :)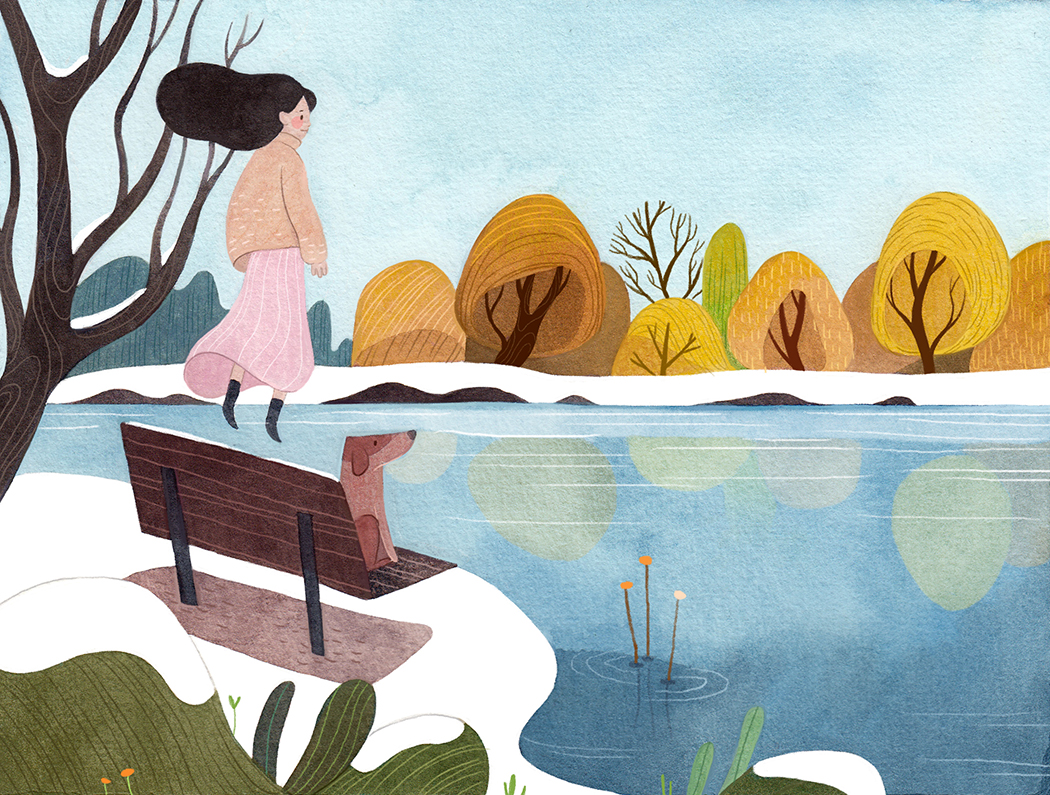 7. Where did you study?
I studied animation in college, at the Art Institute of Portland. And a lot of side art courses throughout my life.
8. Where do you see yourself in five years?
Illustrating of course, but doing even more books. I also want to be doing my own illustration projects, I have a few in mind right now and I'm hoping in time they will come to fruition. And hopefully I will get to stay in somewhere warm during winters, haha.
9. What about in ten?
Not much different, still be illustrating, but with more freedom in choosing projects that I'm passionate about, and with more time on my hand to travel and do my own projects.
10. What do you hope to achieve with your art?
I mainly do this because it is what I love, and I truly enjoy every moment of it. So I didn't set out with a clear goal, but just the hope that my art would bring people happiness, a smile when they look at it, and a feeling of connection with they own experiences and emotions. I guess that means that I hope to bring people joy and comfort with my art :D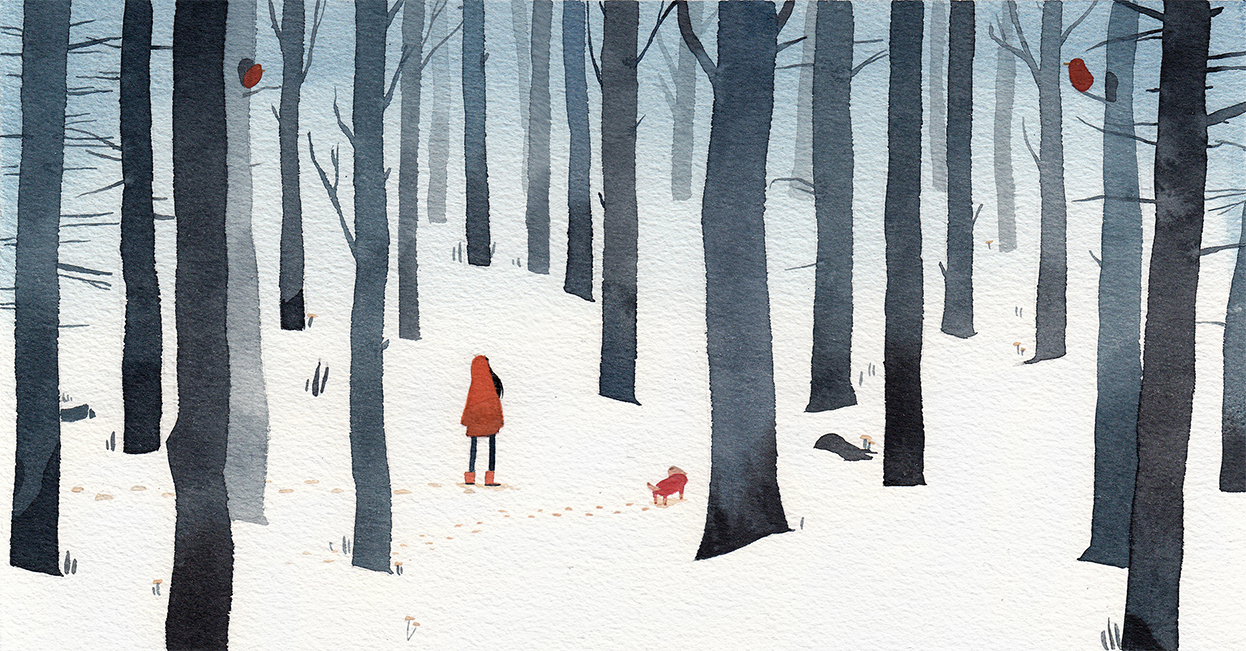 11. Now, tell us a little more about you as a person: what is your favourite food?
Wow, that is hard because I LOVE food! Whenever I travel it's mostly planned around food, haha. It's really hard to pick a favorite but there's just something about what you grow up on that can't be replaced, so I have to say Taiwanese food, and specifically the oyster noodle soup, it's not well known outside of Taiwan but I can literally eat that everyday!
12. Favourite book?
Anything by Kurt Vonnegut, his writing is so unique and profound, it's inspiring. I've read Slaughterhouse Five about four, five times :D
13. Favourite genre of music?
I like quite a wide and random range of music, right now I'm into a lot of the chill pop/R&B and hip hop, it's great for working. I also love old folk like Bob Dylan and Johnny Cash.
14. What are your hobbies?
Well the biggest one has always been art, but now that it's also my job so I guess I have to come up with something else, haha. I like to craft too, needle felting and making little clay figures being the main ones. I also like to read, watch tons of movies, taking long walks and yoga.
15. If you weren't an artist, what would you be?
I would probably be doing something with animals. I love animals and I've thought about studying zoology or marine biology if I wasn't going to do art. I would love to work at an animal sanctuary or rescue.