Instagram: @viviedesign
1. What's your story? Where are you from?
Hello! My name is Vivian and I'm a 24 year old graphic designer and illustrator from Panama. Growing up I noticed one of my favorite subjects was art. I never really thought I was good at drawing, until classmates began to tell me how skilful I was. Later on, I became passionate about it and started drawing more every now and then. I remember art classes were fun and I really enjoyed doing homework.

I went to college and majored in graphic design, got a job, launched my own clothing brand @visuallypleasingclub (because I reallyyy like styling outfits), and it wasn't until now that I decided to create an instagram account with my illustrations. I guess it was because I didn't consider myself an illustrator per se, but now I enjoy drawing more than ever before.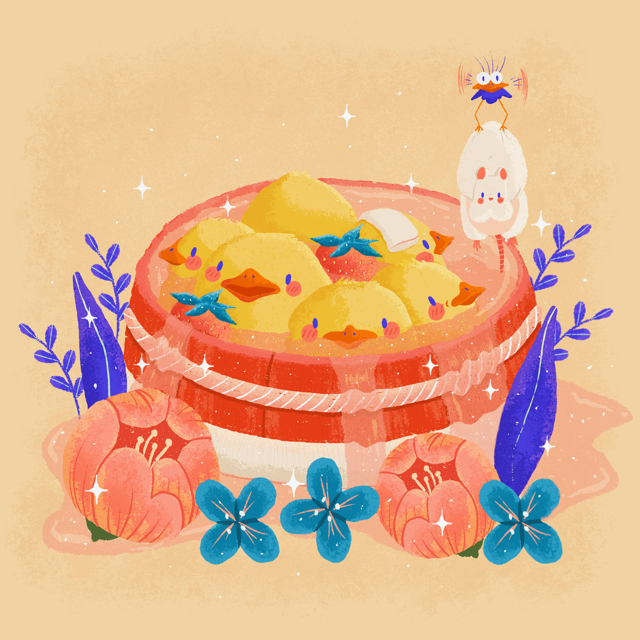 2. Tell us about your aesthetic.
I would like to say it's definitely cute and colorful. Lately, I've been loving drawing food, plants and dogs. Right now, I'm trying to find my style, defining certain things and practicing more.
3. What is your favourite medium and why?
I saved enough money and got an iPad Pro a month ago, yayy!! and started drawing in Procreate, it's a life-changing experience for sure and user-friendly! Before this, I used to draw in Illustrator but I'm happy I made this big decision.
4. What is your artistic process like?
My process starts by doing research and brainstorming. I make a rough sketch, choose a color palette and start drawing. Usually, I draw things that I like or I find cute, or maybe if I'm craving a certain food at the moment then I'll draw it.
5. Who and/or what inspires your work?
I follow a few illustrators and artists on instagram that inspire me the most. My favorite ones are @palomathepeach , @apple.cheeks , @tesssmithroberts and @theforestmori. Generally, I get inspired by east asian food or culture.
6. What role does art play in your life? How does it change the way you view the world?
Art is a way to express myself. It has always been part of my life ever since I was a kid. My dad used to draw a lot when young so he has helped me throughout my whole career. I get bored easily but with art there's so much you can do!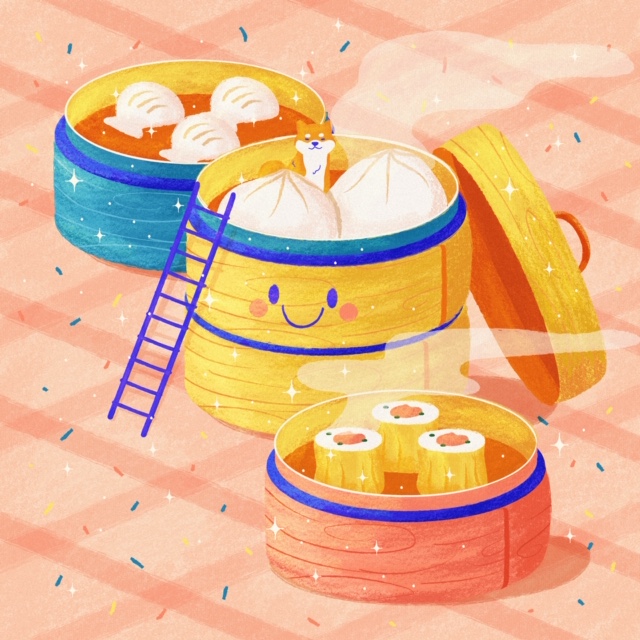 7. Where did you study?
I studied graphic design here in Panama at Universidad Santa María la Antigua. But learned a lot more when I got my first job.
8. Where do you see yourself in five years?
I see myself being a better person and a better artist surrounded by nice people. Hopefully living abroad with my own studio, a dog, being in a healthy relationship and traveling a lot.
9. What about in ten?
That's a bit far off to answer! haha
10. What do you hope to achieve with your art?
I hope I can put a smile on someone's face and make them feel good when they see my art.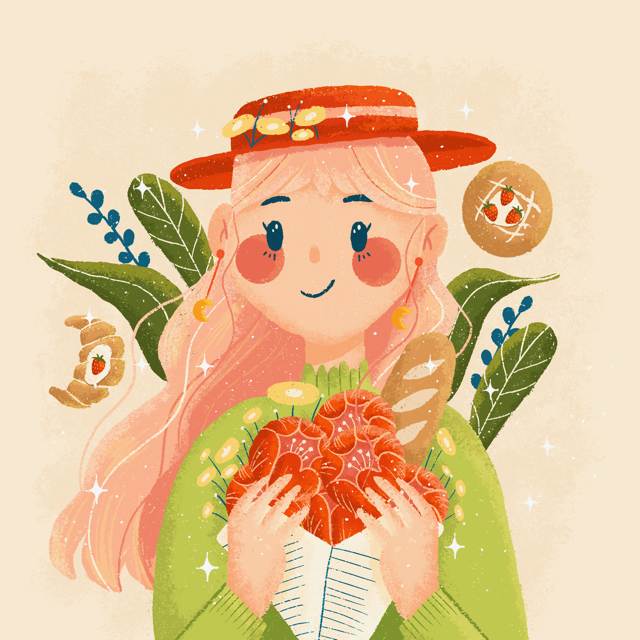 11. Now, tell us a little more about you as a person: what is your favourite food?
Sushi for sure! Japanese food is so good, I never get bored of it to be honest.
12. Favourite book?
I'm gonna be honest...I don't read much because I simply don't like it haha, but I consider myself a visual learner so maybe that's why. However, I think I tend to gravitate towards self help books.
13. Favourite genre of music?
I listen to a lot of different music genres from kpop to rock, indie, synth, reggaeton, latin, hip pop, music from the 80's, 70's and so on. But my favorite ones are kpop and rock.
14. What are your hobbies?
Pre-pandemic hobbies include going out with my friends, trying new foods, exercising at the park, going to the movies... Current-pandemic hobbies are playing my ukulele, drawing more, watching Netflix...
15. If you weren't an artist, what would you be?
I don't think I see myself having another career aside from being an artist, but if that was the case, I would probably have a better eye sight and a way better posture!