Instagram:
@weien1109
1. What's your story? Where are you from?
Hello, I am Weien, I am born and grew up in Taipei, Taiwan. I love arts and started to draw since I was a child. In my childhood, most of the adults are not really respectful towards artists or children who are interested in art but I focus on training myself on art in the past twenty years, now I finished an MA Illustration degree in the UK and become a freelance illustrator! 嗨,我是瑋恩,在台北出生和長大。 我喜歡藝術,從小就開始畫畫。在我的童年時代,大多數的成年人並不是真的非常尊重藝術或對藝術感興趣的小孩,但是我在過去的二十年裡,還是專注在自我藝術培養、練習繪畫的基本功和大量的吸收藝術養分,最近我在英國完成了插畫碩士的學位,並成為一名自由插畫師。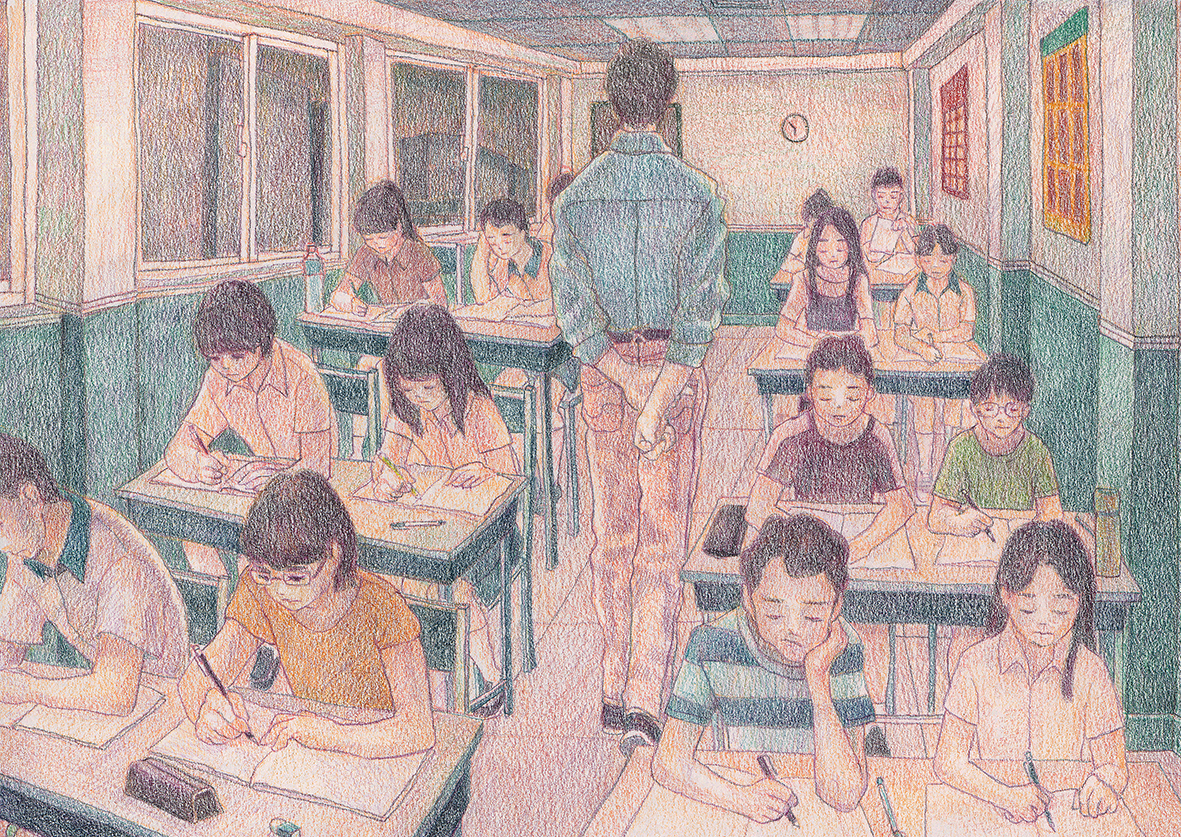 2. Tell us about your aesthetic.
I am interested in using sequential imagery to tell stories about contemporary society. My narrative themes focus on social issues, in particular, inequality in society. The stories I create highlight cultural inequalities both in eastern and western societies. I prefer to use beautiful and sometimes decorative imagery to communicate darker and sinister narratives, subverting our expectations and stereotypes of contemporary society. 我喜歡使用連續圖像來講述當代社會的故事。我擅長使用討人喜歡、有時是裝飾性的圖像來傳達更黑暗和險惡的敘事,顛覆我們對當代社會的期望和刻板印象。故事主題著重於社會問題,特別是社會不平等,目標是無論是東西方的社會文化都能夠產生共鳴。
3. What is your favourite medium and why?
Now I mostly use colour pencils and digital drawings, recently I would like to try to use acrylic, oil paint or intaglio printing for my creation. 現在我主要使用色鉛筆和電腦繪圖,最近我想嘗試使用壓克力,油畫或是版畫來創作。
4. What is your artistic process like?
When I have an idea of an image or a story, I would use a pencil to quickly draw the images in my head, and I will do some research for my work, searching on the Internet or in the library, go to the library to find something that could support my concept, and also visit some related museum and exhibition. When I finished my work until eighty percent, I will discuss with a few of my friends, who really understand my works, collect and absorb their advice, and then finish my work. 當我有一些創作的想法,我會用鉛筆快速紀錄我在腦海中的圖像,然後開始進行一些研究,例如在Google上和圖書館蒐集可以支撐我的創作理念的資料,或是去參觀相關的博物館、展覽,看看其他人是如何用類似主題創作的。 當我完成創作到百分之八十左右的時候,我會和幾個真正了解我的作品的朋友討論,透過他們的建議去修改和完成我的工作。
5. Who and/or what inspires your work?
My parents and elder sisters are all doing medical works, when they analyze an event or a story, they will be based on some foundations or scientific facts. The way of how I think and create is magnificently influenced by them, therefore it is the reason why I prefer to use a realistic story structure. 我的父母和兄弟姊妹都是從事醫學性質的工作,他們看事的角度和觀點都會比較重視一些根據或是一些科學事實,所以我在成長的過程裡,我認為我的創作受到他們的價值觀的影響,喜歡以寫實主義的故事架構為主。
6. What role does art play in your life? How does it change the way you view the world?
I am very lucky that my parents bring me to Europe to visit lots of great art museums when I was a child. By the time I understand how did good arts affect and heal people's minds and hearts. I also meet some nice and patient art teacher by the age I start to draw, creating an environment for me that is full of freedom and comfortable in my childhood. By the time I also find out I am good at creating images instead of other things. For me, Art is to get rid of the meaningless rules and values that I think are meaningless and create a world in which I use my perspective to tell stories. 我很幸運的是,在年紀很小時候我父母帶我參觀了許多很棒的美術館,我也在那個時候理解好的藝術是如何影響和治愈人們的思想和心靈。我四歲開始畫畫的時候,我也遇到了幾個很有耐心人有很好的的兒童美術班老師,所以我在童年的時候的創作和吸收藝術的環境是很自由又開心的。 對我來說,藝術就是擺脫我認為毫無意義的毫無意義的規則和價值觀,並創造一個我用自己的觀點來講述故事的世界。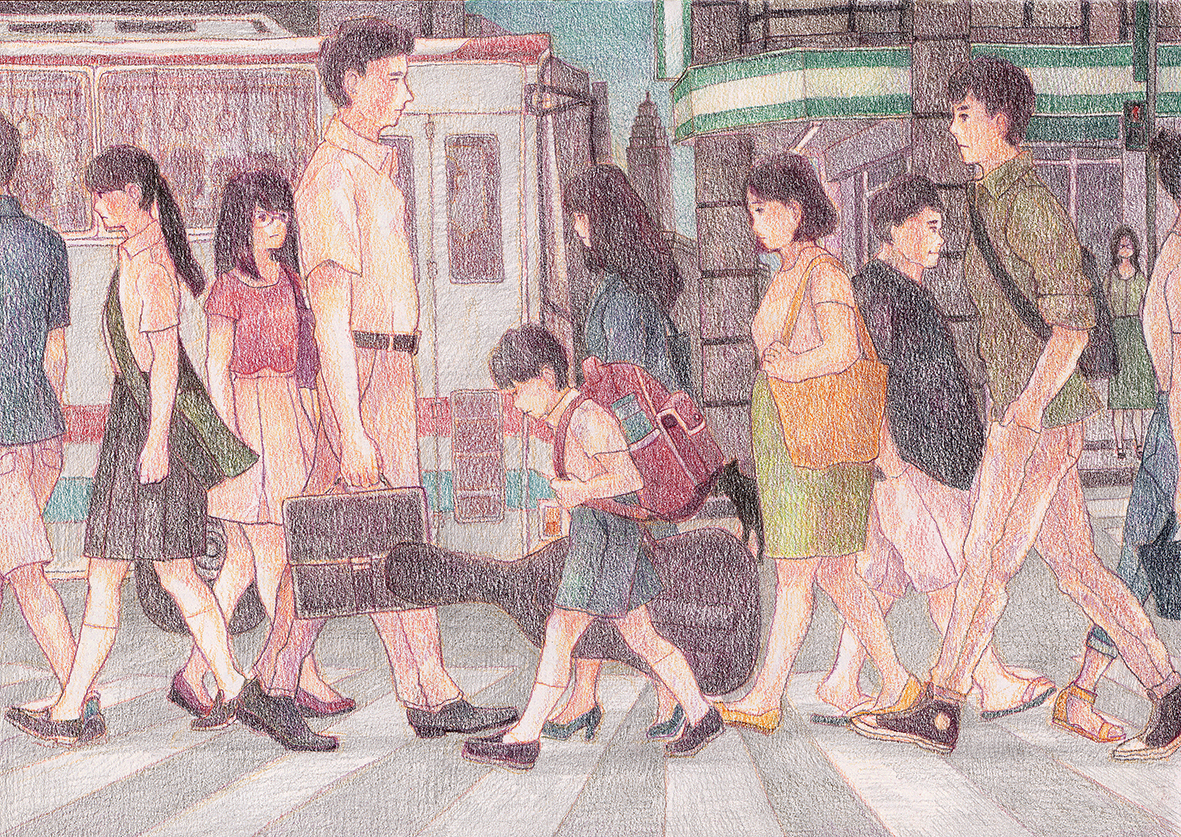 7. Where did you study?
I major in Product Design at Ming Chuan University in Taiwan, and have an MA Illustration degree at University for Creative Arts in the UK. 我在台灣的銘傳大學主修的產品設計系,然後在英國創意藝術大學完成插畫碩士學位。
8. Where do you see yourself in five years?
I would have a stable income and more mature skills in creating. 有更穩定的收入和更成熟的創作技巧。
9. What about in ten?
I hope by the time, I still have lots of ideas for making beautiful and touching illustrations to the audience. 我希望到時候我仍然有許多靈感,將美麗的創作和好的故事帶來給觀眾。
10. What do you hope to achieve with your art?
When I am a teenager, I needed to take lots of tests and exams for preparing to go to university, because I am not good at studying, so it is a difficult time for me. After I went to a design college and an illustration graduate school, and start to draw again, I gain some recognition from myself and others through artistic creation, I felt very fulfilled and lucky. If I could be a successful artist, I hope that other children who like art like me can have more confident decisions about their future choices. 我到了十幾歲的時候,因為需要參加大量的考試來準備爭取比較好大學,但是我非常不擅長念書,所以對我來說那是一段很痛苦的時期。 當在我開始念設計學院和插畫研究所的時候,因為我終於又可以開始發揮我擅長的領域,通過創作獲得了自己和他人的一些認可,感到非常有成就感。我未來的目標是如果我可以成為一個成功的藝術家,希望可以讓其他跟我一樣喜歡藝術的小孩,對於他們未來的選擇可以更有自信的去做決定。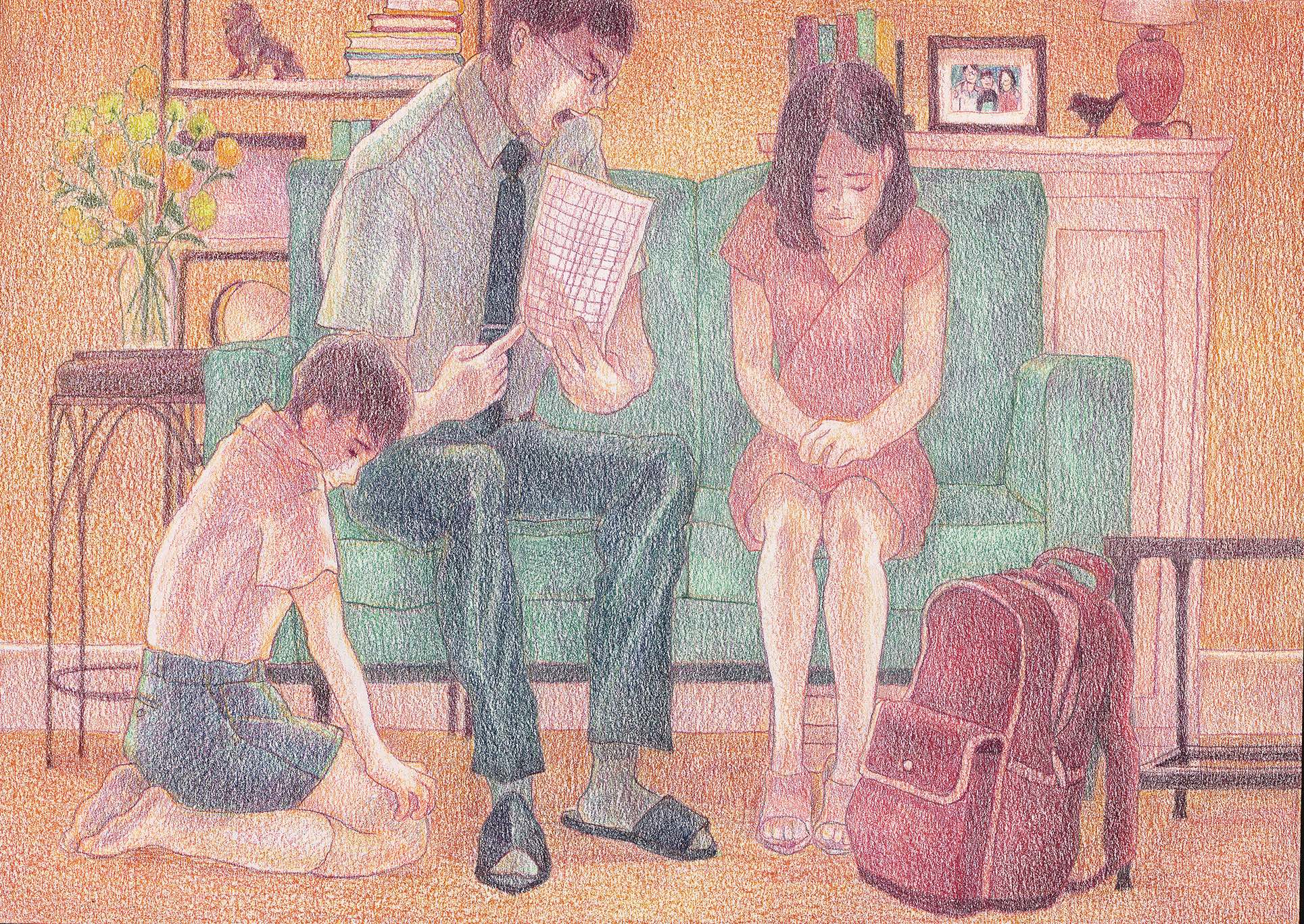 11. Now, tell us a little more about you as a person: what is your favourite food?
Thai food is my favorite, Italian food is my second place. 泰國菜是我的最愛,義大利菜是我的第二位。
12. Favourite book?
Osamu Dazai's novel 'No Longer Human' is my favorite. The author has unreservedly shown that the protagonist wants to survive, but his weak personality makes him unable to succeed and always failed. I admire the way how the author tells the story. 我很喜歡的是日本小說家太宰治的《人間失格》。我很欣賞作者毫無保留的展現男主角極力想要生存,但是軟弱的個性讓他沒辦法成功、總是失敗的故事安排。
13. Favourite genre of music?
I prefer to listen to songs which could make me felt relaxed and cheerful. Scott McKenzie's 'San Francisco' is my favourite song. 我偏好正面輕鬆愉快,聽了會振奮的歌曲,Scott McKenzie的<San Francisco>是我最喜歡的歌。
14. What are your hobbies?
I like to research the different ways of makeup, dressing and hairstyling. I used to dress up prettily and went out with my photographer friends to shoot some nice pictures, but now I need to concentrate on my work. However, if I have time to have a little break to go outside, I will still deck out in my best style. 我喜歡研究不同的化妝方式、穿搭和頭髮的造型。以前有時間的時候,會用心打扮和攝影師朋友出去拍照,但是現在因為要專心工作所以很難在這樣做了。不過難得出門的時候還是會好好的打扮自己,讓自己心情好一點。
15. If you weren't an artist, what would you be?
I will like to do a job which could communicate with other people, such as being a dancing or acting performer, being a chef who could practice how to make lots of nice cuisines would also be nice! 我想做一份可以多與其他人交流的工作,比如做舞蹈或表演者。如果可以做一個廚師,常常可以練習製作健康又美味的食物也很好!