Instagram:
@wensizhai
Behance:
www.behance.net/wensi_wonderland
Website:
www.wensizhai.com
1. What's your story? Where are you from?
​I was born in downtown Beijing before China opened to the world. Back then, everything smelled of communism, the country had not stepped into modern culture at the same time with the western world. I use grey colour to represent it. The local Hutong​ culture was my childhood environment. That was until I graduated from middle school and had my first trip by myself to the southern old capital Hangzhou. There was a new fresh world opened to me - everywhere was full of green, everywhere was full of the feeling of gentle and softness, from wind and water to the life values and how people are. I had never experienced something like that in my hometown. Beijing is in a way relaxed and open to different values, but felt also serious, depressed and dry. In Hangzhou, I learned to know by heart how much I love to be close with nature. After graduating from BA, I considered to move to Finland where the forest occupies about 70% of the land. Nature is the essential inspiration resource of my art.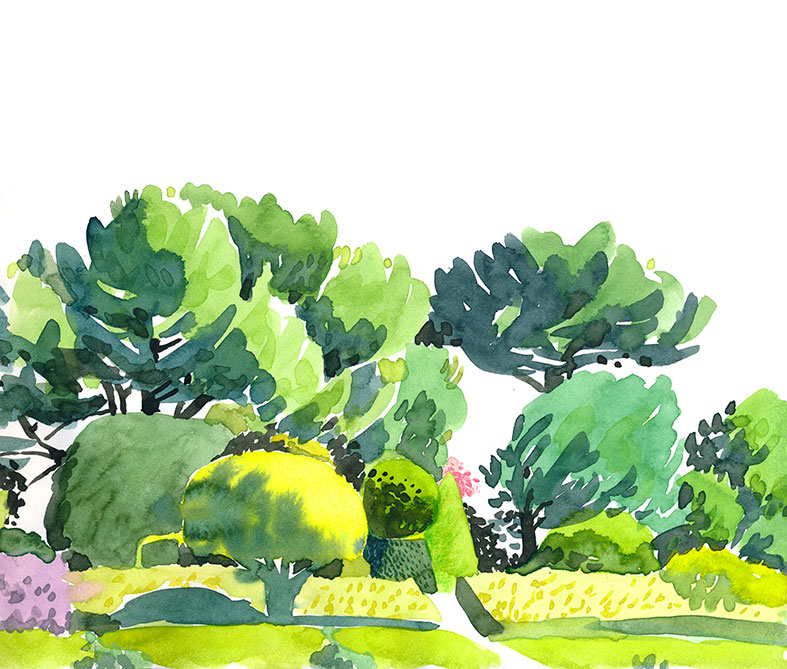 2. Tell us about your aesthetic.
I think that the essential of my art is that it brings compassion, enjoyment and peaceful energy to others. My concerns of animals, nature and environment are always in what I create. I would describe my work relaxed, careful and beautiful.
3. What is your favourite medium and why?
​I don't have the one answer for this question.​ I'm best with pencil, watercolor, ink, color pencils and crayon, then gouache, acrylic paint and digital pen. It depends on what my clients' needs are, and also on my sensations of the content. In 2016-2017, I like the combination of ink and watercolor with color pencils. Because ink can blow the wind of asian styles; watercolor can be more colorful than ink – as I need happy colors always; and color pencils are good to weave various textures up. For the paper, I like very good and bad ones. For example, 100% cotton with cold press, or very old and basic papers (can be used, from old books, rough wrapping paper and so on.)
4. What is your artistic process like?
​I ​carry pencils and a small notebook with me almost everywhere for collecting ideas, whenever the come. Then it depends on the topic, which technique I choose. For animal drawings, I usually start with color pencil or crayon to give the feeling of their fur and skin. For nature topics, I usually start with watercolor for representing the free, colorful and breathable quality. For abstract impressions, I can start with any, even a sponge or a branch, just try to get different shapes and textures. When I am ready with the hand-drawn step, I scan the works and adjust details to finish them in Photoshop.
5. Who and/or what inspires your work?
In my daily life, animals' emotional looks or behaviour. Old-grown forests and nature. My own philosophical thinking about life. ​Buddhism. People and horses I met on the street. Historically, Chinese artists from 1-10th century and 20th century. Western artists from 15th to 20th century.
6. What role does art play in your life? How does it change the way you view the world?
​When I was 100 days old, I grabbed a pencil. This was a traditional custom in China. I think my art life officially started from there. I love to draw since then, to record every strong excitement, sadness, inspiration, depression and so in life. Not every question has a good answer in the river like flow of life. Art is always a good answer to amount all answers, as wise as how Buddhism appears to me. I believe that every impressed experiences in life, of whatever big or small topics , are doors to open one's own treasure chest - there you will find wisdoms eventually. Art is one kind of wisdom, and wisdom is the most important in my values.​

7. Where did you study?
​I have graduated with two Master's degrees, from Central Academy of Fine arts, China and from Aalto University, Finland.
8. Where do you see yourself in five years?
In the past 5 years, I tasted the very unsure side of life, that made me to learn to let things go. I stand on the island of my world and think about all the attachments of life. In 5 years, I will hopefully be more open and understandable of the relationship between my island and the world, as I like to help others with my compassion and wisdoms. I hope that my work will be even more powerful and established. I plan to have 3 agencies in Asia, US and Europe.
9. What about in ten?
I hope in about ten years time, I can be very happy with what I do. It means that I work with good clients, art dealers and markets. That I am able to more easily say no to everything that is not fairly good for me. Materially, I really wish to have a proper professional studio which has natural light from the ceiling windows, all printing and painting equipments and some plants to bring life to it. The place could be close to nature. And I'd like to share it with other talented artists who need support and company.
10. What do you hope to achieve with your art?
To bring happiness, insight and wisdom to others, in various medias and sizes.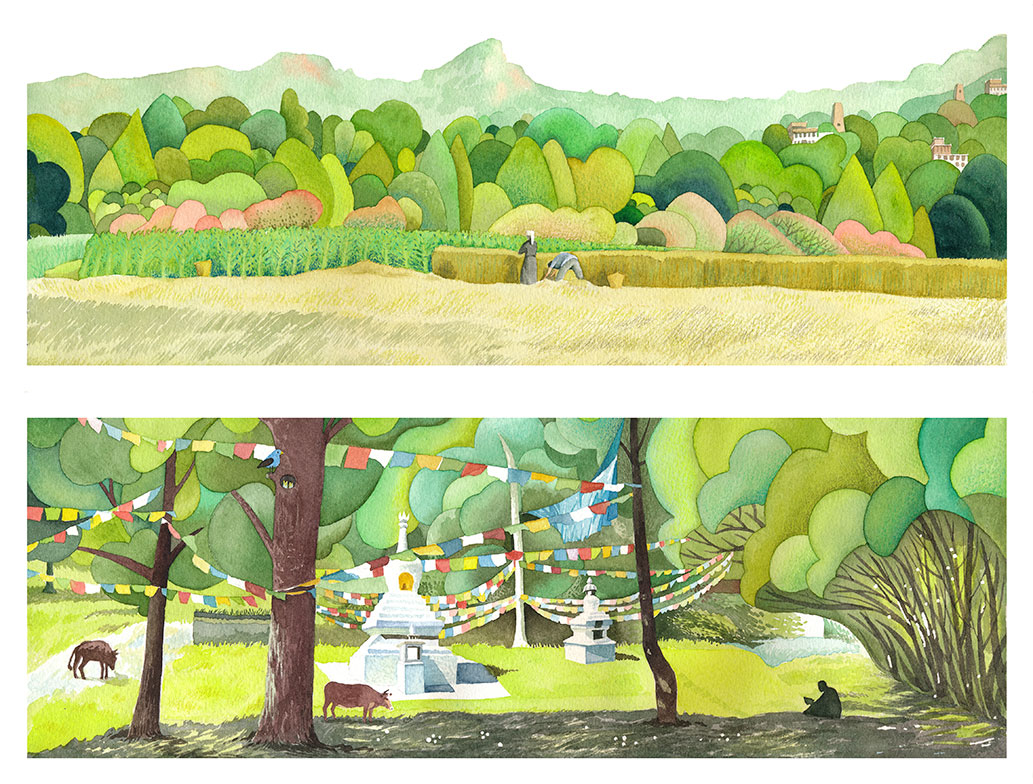 11. Now, tell us a little more about you as a person: what is your favorite food?
Essentially, I believe in two conditions that define good food for me. First, clean water is the most important for human beings and for growing food in general. Comparing great Chinese dishes and a bit simple Northern Scandinavian dish, I choose the latter. Because Chinese food only tastes great in general. Secondly, the most basic but high quality foods are the healthiest for the human body. I love simple and food with some variety. At the moment, maybe, watermelon and soya/oat milk.
12. Favourite book?
At the moment, The Art of Happiness by Dalai Lama and Matisse on Art by Jack Flam
13. Favourite genre of music?
Bach solo piano and cello, Haydn's symphonies, and Asian Pop music
14. What are your hobbies?
Walking in old forest while thinking about serious or philosophical questions by myself, or just exploring the forest with childlike wonderment. Making sketches in a botanical garden and in the forest. Travelling to where the great art museums or strong Buddhism relations are found. Writing poems. Practise Yoga.
15. If you weren't an artist, what would you be?
Animal scholar or specialist, library clerk or a monk.