Instagram: @yartichok
1. What's your story? Where are you from?
Hi, I am Yun. I am from Shenzhen, China, I came to San Francisco for school and now have lived here for almost six years. I graduated with a degree in illustration last year and now I do work for newspapers, creative agencies, local businesses, etc. I also started graduate school for interaction design in September.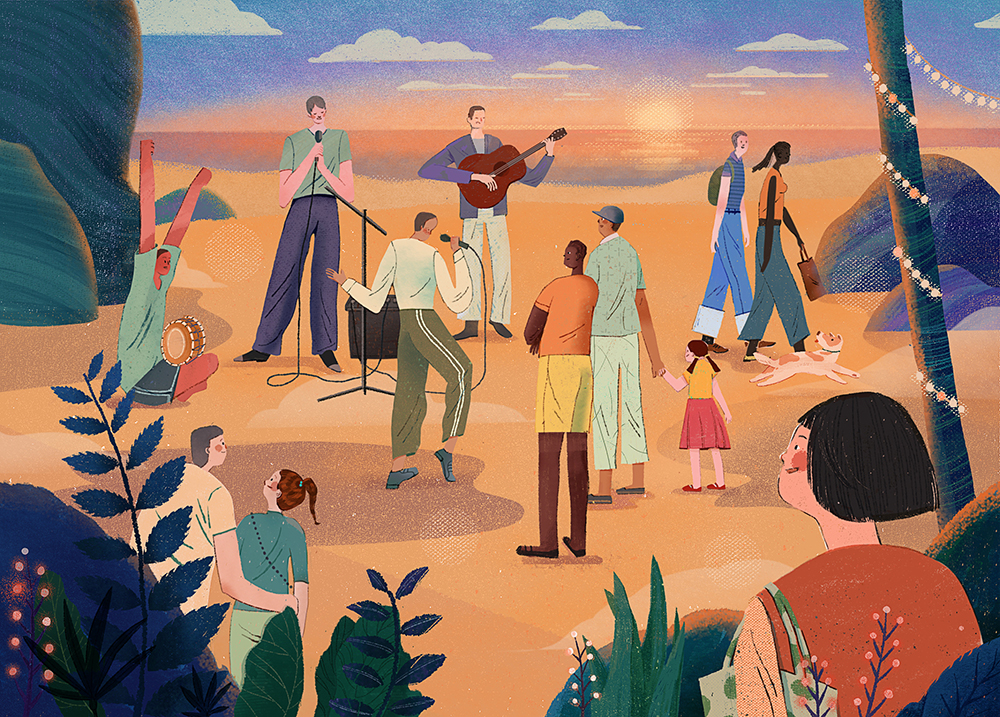 2. Tell us about your aesthetic.
I believe that everyone can make art, as long as it's thoughtful, but I think great artists always try to break boundaries and constantly challenge themselves. My preferred works are those that are expressive, opinion-oriented and honest. In my own works, I always pay attention to the story I want to tell, also the texture and color, I think that brings life to my work. I enjoy looking at pictures of architecture, landscape, universe or vintage posters.
3. What is your favourite medium and why?
I do most of my work digitally now, that way adjustments are easier to make. Yet I still found drawing on paper irreplaceable, traditional mediums like acrylic, watercolor, or collages are still something I enjoy doing. I was doing a lot of sketches all the time, now I need to go back and do so.
4. What is your artistic process like?
I'd like to think 'in a box' first, with some sort of instructions or guideline, then I am able to start the brainstorming and begin putting down sketches. I usually do the roughs on paper with graphite or colored pencil, after four or five sketches, I'll have a pretty good idea about what I would do for the final. Then depends on the project, whether it requires a color rough or not, otherwise, I will take it to photoshop and start working on it. Before I deliver the final work, I would give it some time and stay away from the work. That way, I won't be too blinded for staring at the work longer than I should. I am also trying not to develop a static process every time I make something new.
5. Who and/or what inspires your work?
A long list of fellow artists! Lately, I am really into the work of the Scottish painter Peter Doig, I like his way of painting a scenery so vividly and almost dreamlike. I believe that only people who get fulfilment or make a living out of creativity will rely on inspiration, but it is more likely a process you can develop over time and the more experiences you have, you won't feel the need to be 'inspired', it is something within you and waiting for you to be discovered. So we should always pay attention to the world outside of art.
6. What role does art play in your life? How does it change the way you view the world?
I think it also shapes the way I view the world since I've been using art to express myself for a long time now. It taught me a lot of things. Connections with other people used to trigger and overwhelm me. I've learnt a way to view it differently and I am paying more attention to other subjects in life now, but art is omnipresent.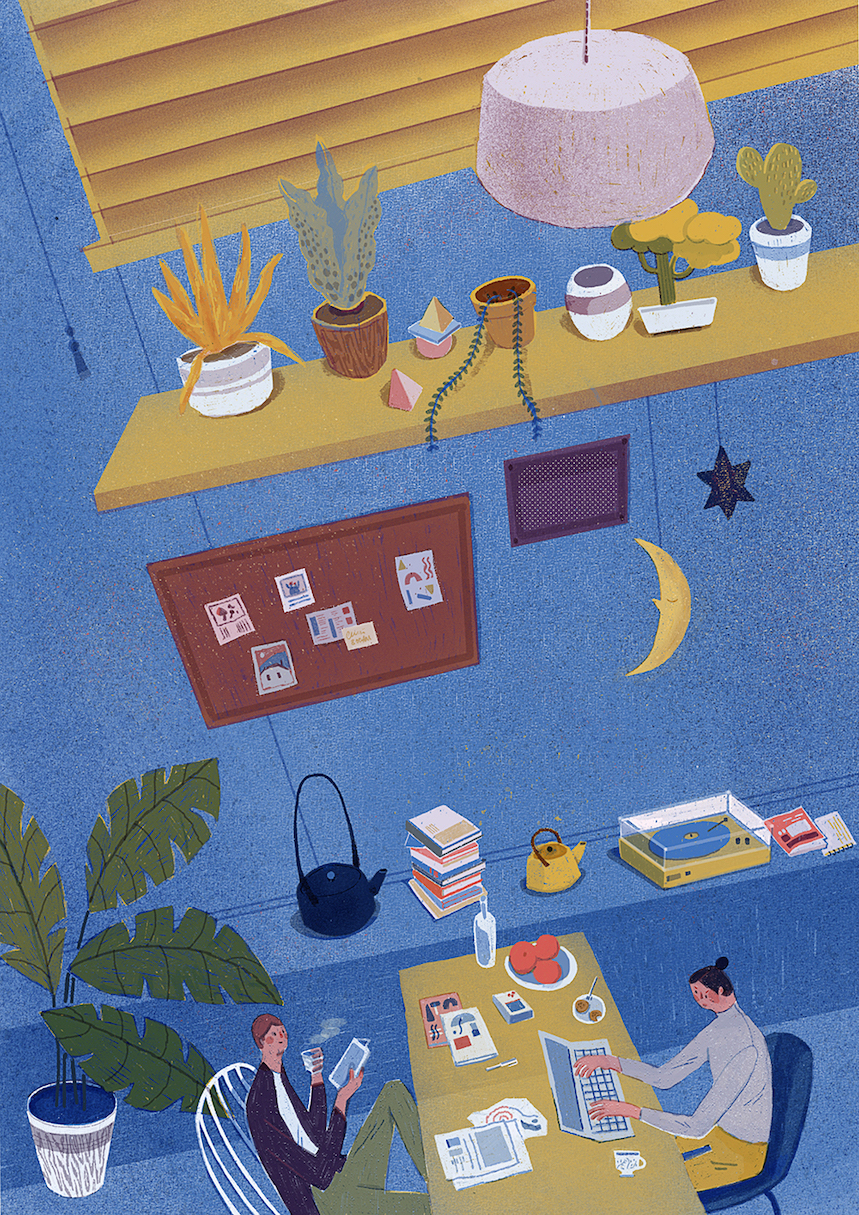 7. Where did you study?
I studied illustration in San Francisco, California.
8. Where do you see yourself in five years?
In my own studio, experienced in different fields in art, because I am always open to new possibilities. The things that are not capable of bringing me joy now, I hope it will be in five years.
9. What about in ten?
I try not to think about it. Maybe I'll have pets like a capybara.
10. What do you hope to achieve with your art?
I want to be more direct with my emotions and opinions, be known and recognized. Also, publish my own children's book.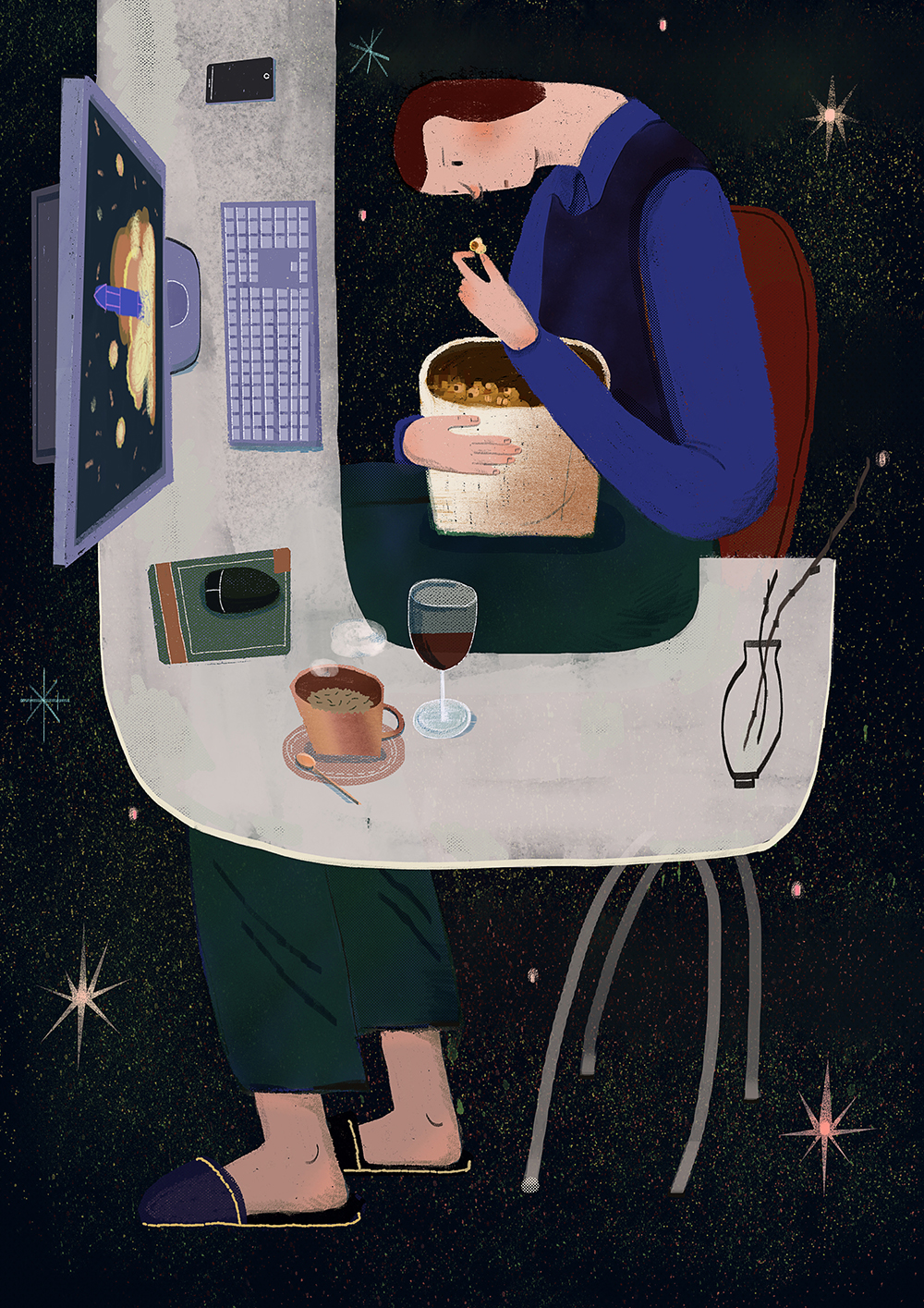 11. Now, tell us a little more about you as a person: what is your favourite food?
Shanghai food! It was like a second hometown to me, because of how much I like the food there. I also drink a lot of coffee and tea.
12. Favourite book?
1Q84 by Haruki Murakami was my favorite novel. For artbook, the illustrations in The Crackle of the Frost by Lorenzo Mattotti are phenomenal.
13. Favourite genre of music?
This is hard to pick, probably rock. But I couldn't pay attention to the music while I work.
14. What are your hobbies?
Road trip, collecting art books, city walking, listening to podcast.
15. If you weren't an artist, what would you be?
It would be a musician or a lawyer.