Instagram:
@yestherawing
Tumblr:
yestherawing.tumblr.com
1. What's your story? Where are you from?
My name is Esther. I was born and raised in Seoul, Korea. Since I was a kid, I was drawing a lot. It was the funniest time for me and spent most of time drawing. But since I was not confident enough in my drawing, I majored in graphic design instead of pure art. After I graduated, I got a job in a design company where I was making stationaries and business cards or fliers etc by computer. Even I spent so much time in working at the company, I felt that something was empty. So I decided to quit the job and went on a long trip. It made me open my eyes and open something from deep inside of me.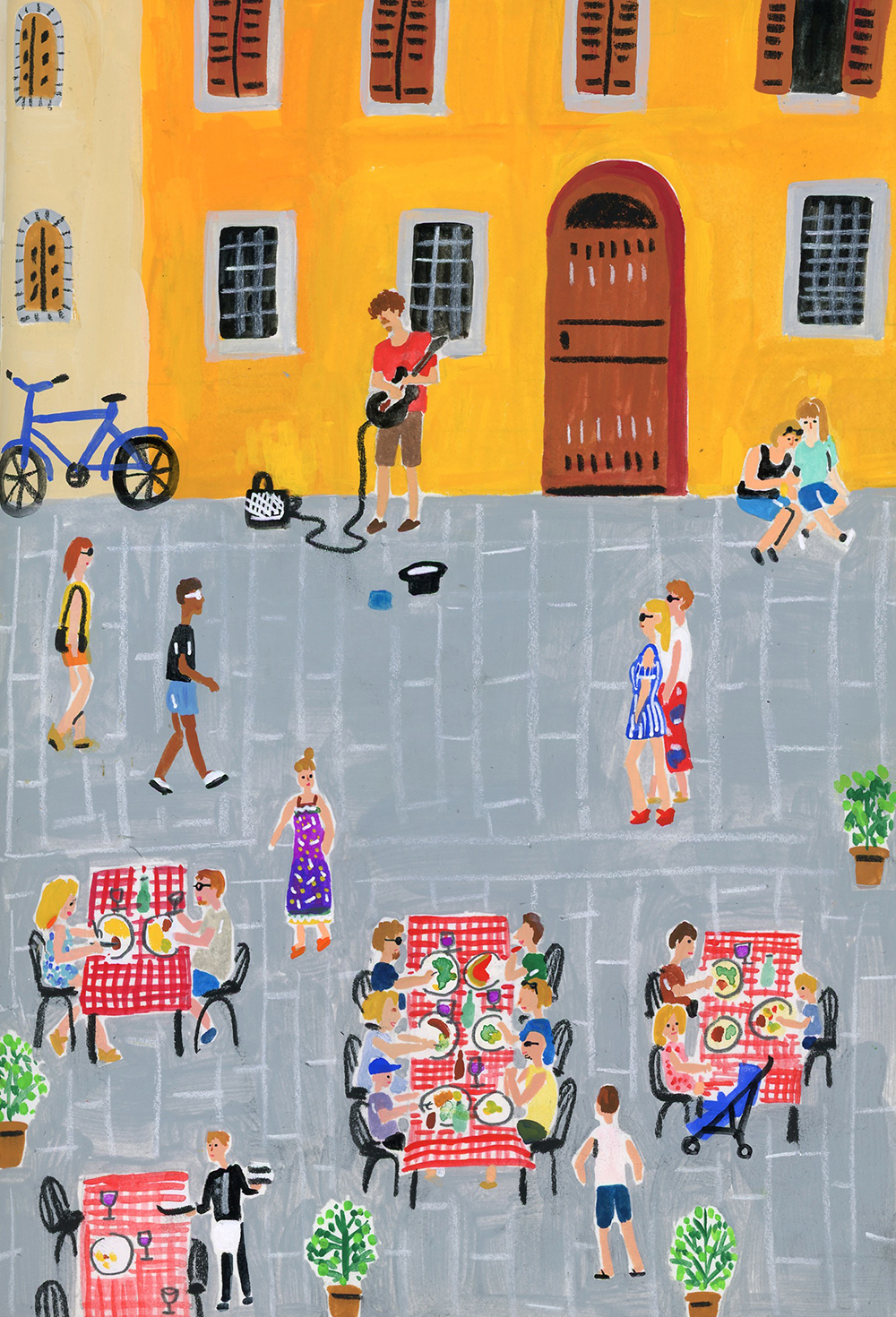 2. Tell us about your aesthetic.
I enjoy drawing people, scenery, and people in the scenery. There are stories. It can happen both somewhere close to us and far from us. I want it to look simpler and more naturally.
3. What is your favourite medium and why?
Recently I am into Gouache. A friend of mine recommend me and I started using it. Since then just I fell in love with it. Colors are so clear and it's easy to express what I try to do. I used to do a lot of digital work before which also I could make it look like watercolor or engraving. It was very convenient but I realized that drawing starts by hands, and it's so much fun to choose materials. I also use watercolor and markers. I especially enjoy the paint becoming infused, accidental lines and textures.
4. What is your artistic process like?
I normally draw what I experienced. If there is a specific thing I want to draw, I try to find something similar from any pictures I took then combine some images and then sketch. For me, my photo album is like a library or a reference room. First I sketch by pencil then start coloring. Sometimes I color directly without sketching. Once I color them by paint,I add details by using pens or crayons, then I scan it. Sometimes I modify a bit by photoshop. I put all the materials on the big table and finish it in order.
5. Who and/or what inspires your work?
What inspires me most is traveling. I want to catch that moment like sceneries or people. Something visually beautiful in nature, art or people. Also the family and friends, and daily emotions help me out.
6. What role does art play in your life? How does it change the way you view the world?
Art makes life so fruitful. Without art, I would feel everything is so boring. Even the normal scene seem so special with it. That's the time I can really focus and put all my energy doing it. It leads me and gives me new experiences as well.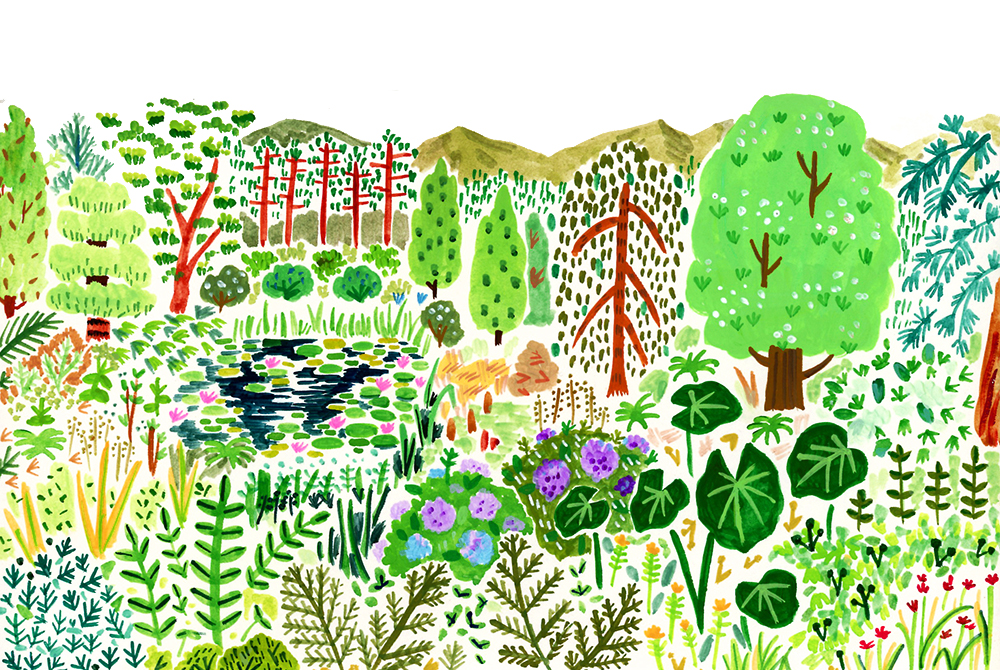 7. Where did you study?
I majored in graphic design and studied graphic programming and designing. But traveling became the biggest help in my illustrations.
8. Where do you see yourself in five years?
My illustration has been improved by working hard and doing my best, and I have made a lot more various contents. I don't work at an agency nor company. Instead I made my own studio where I enjoy drawing and meeting new people who are in love with art like me. I can go anywhere or experience so much through pictures and drawings.
9. What about in ten?
I have published some books and wander around and there are more people who like my work.
10. What do you hope to achieve with your art?
What I hope is to plant the positive energy seed in their heart and even if it's a small portion but to get involved in their lives and try to give comfort and empathy and it spreads out more and more.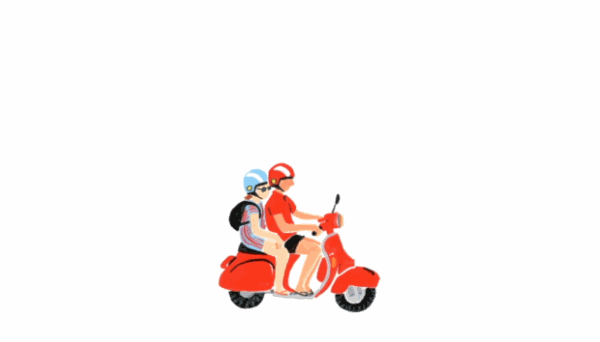 11. Now, tell us a little more about you as a person: what is your favourite food?
I love something made out of flour like bread, pasta, all different types of noodles.
12. Favourite book?
I love all the books of Jean-Jacques Sempé, and essay "Affinity" by Pi Chun-deuk and any picture books.
13. Favourite genre of music?
I enjoy Indie Pop and Acoustic music which is so soft but also fast rhythm or if the voice is so attractive, that's enough. Especially I enjoy listing to Jason Mraz, kings of convenience, lenka and Korean Indie music. These days, I also put it random play, so I get to listen all different types of music.
14. What are your hobbies?
In most of my free time, I draw or make some videos. The hobbies that I've been doing so long are photography, swimming and cycling. And recently I took a lesson to become a barista so these days I brew my own coffee. I also like choosing one day then clean my place. I would like to have some more hobbies like flower bouquet, pottery, cooking or learning a musical instrument.
15. If you weren't an artist, what would you be?
To help others.