Instagram:
@yesurrey
Twitter:
@yesurrey
Tumblr:
ellensurrey.tumblr.com
Shop:
ellensurrey.tictail.com
Website:
www.ellensurrey.com
1. What's your story? Where are you from?
I was born in upstate New York, but grew up in Los Angeles California. My family and I moved when my Dad got a job working for Disney. Growing up I knew I wanted to be an artist and for a long time I thought I wanted to be an animator like my Dad. It wasn't until I tried animation that I realized it wasn't for me; just too repetitive. Once I found illustration it felt like the perfect fit. I could still create stories and characters without having to make hundreds of drawings. It also gave me full control over the world I wanted to create.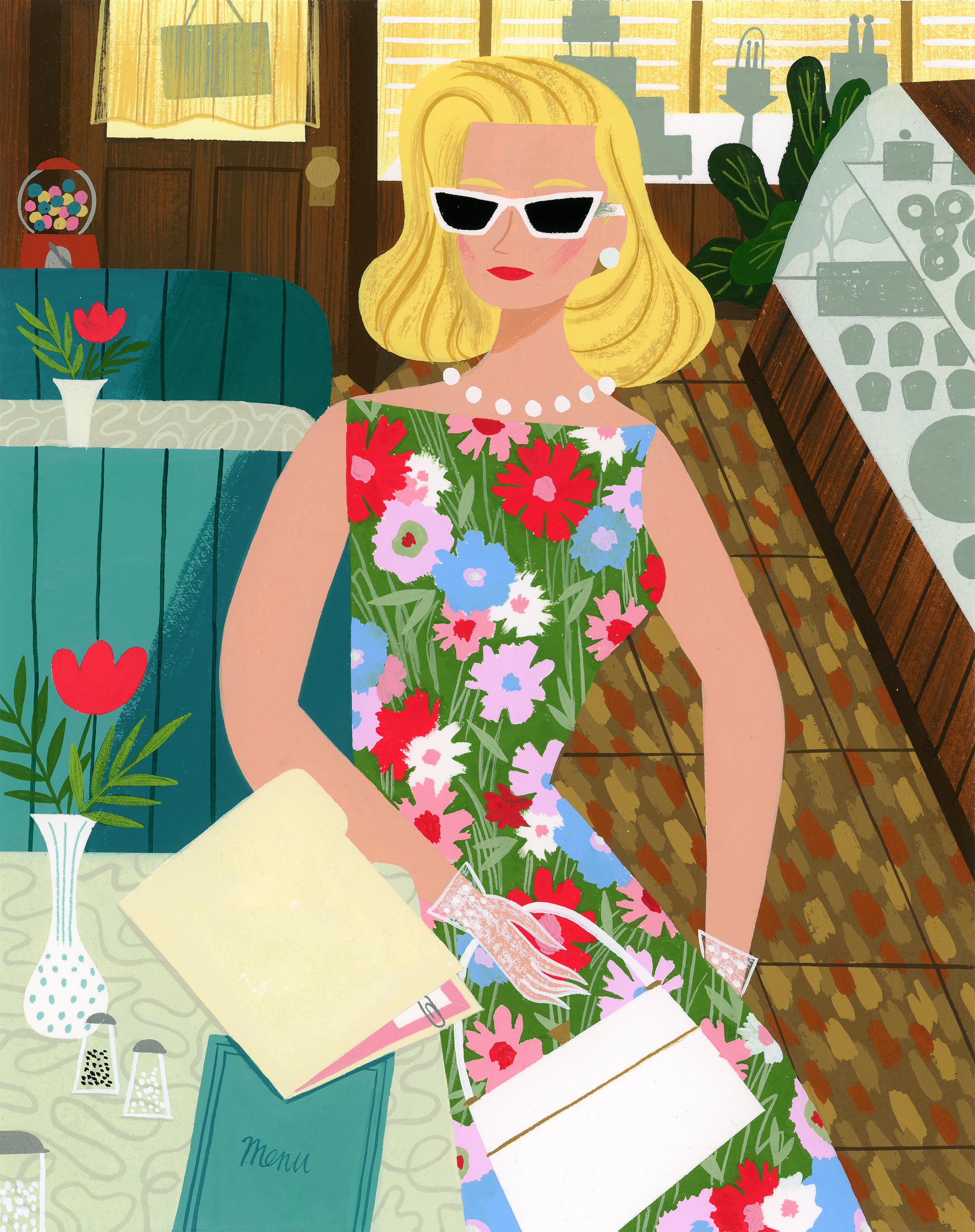 2. Tell us about your aesthetic.
I've described my style as nostalgic. I am particularly fond of history from the 20th century. But my favorite period is the 50s and 60s. I am a HUGE fan of mid century modern design and it's a big influence on my work. I think it's the colors, shapes, simplicity and innovation that I appreciate and try to incorporate into my illustration.
3. What is your favourite medium and why?
I primarily work in gouache. I really love the vibrancy of the colors and the variety of ways in which you can use it. The medium also has a great history within illustration. Many, if not all, of my favorite artists from the 50s and 60s used gouache. It was basically the predecessor to acrylic and was practically made for illustrators.
4. What is your artistic process like?
First, I like to do as much research as I can by making a a mood board for what I want to achieve. From there I make lots of rough thumbnail sketches until I get one that I like the best. Then I scan those and print them out to scale so I can draw in more detail. Once I have a more detailed sketch I like to do a color study to map out my colors. And finally I paint the piece and scan it to make it digital.
5. Who and/or what inspires your work?
A lot of things inspire me. Funky objects in thrift stores and flea markets, books by people I admire, fashion, and the list goes on. But what's been inspiring me lately is film. I love watching movies, sometimes one each night. I especially love old movies and the TCM app is one of my favorites. A lot of times I will take screenshots as I watch a movie and later I will paint some of my favorites. It's a fun way to practice and feel a little closer to those movies afterwards.
6. What role does art play in your life? How does it change the way you view the world?
Art has always been apart of my life. I honestly can't remember a time where it wasn't. It has defiantly made me a more aware person. I always seem to notice situations, people, or aspects of a place that most people wouldn't think to look for and it does help me in my work.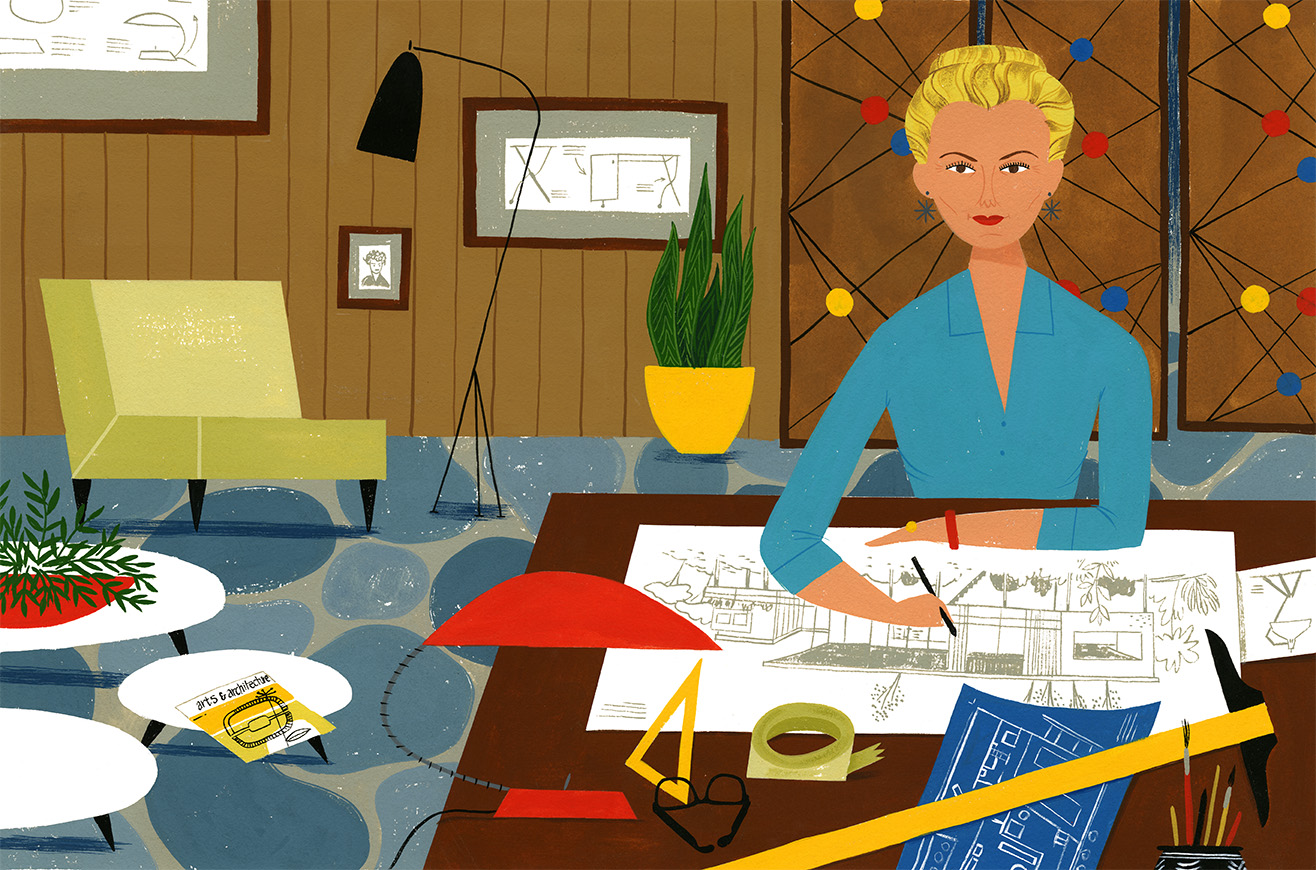 7. Where did you study?
I went to Art Center College of Design in Pasadena, California. It was my dream school and I feel really lucky to have been able to go there.
8. Where do you see yourself in five years? Working in an agency?
I would like to continue as a freelance artist. I really like the flexibility it gives me. My goal for this coming year is to find an agent. I've been out of school for just over 2 years now and I think it's about time. I am ready to pass on the business duties to someone else.
9. What about in ten?
It's early to say, but all I know is I'll still be making things.
10. What do you hope to achieve with your art?
I just hope whatever I make can brighten someones day.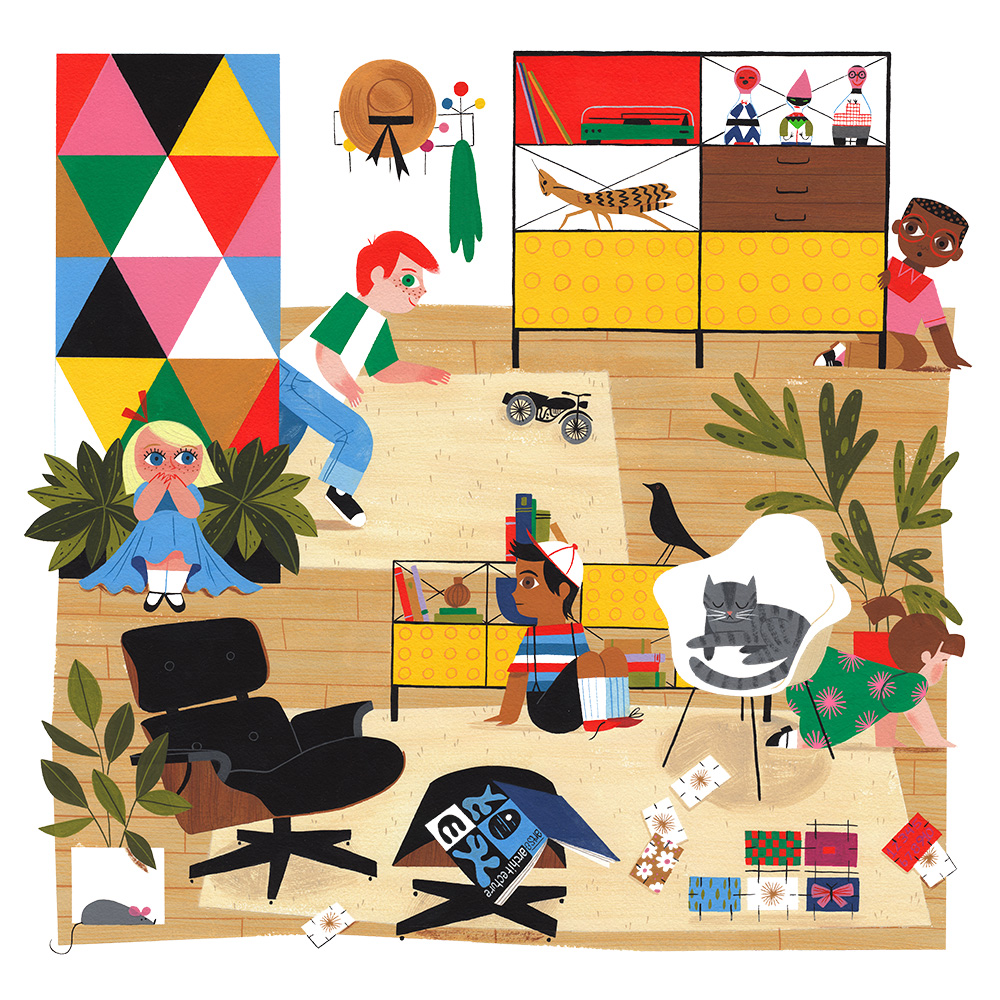 11. Now, tell us a little more about you as a person: what is your favourite food?
That's a tough one. I like so many foods! I think I would have to pick something sweet since I have a pretty bad sweet tooth. Lately I've been craving some good homemade fudge. My mom used to make it a lot around the holidays, so it's very sentimental.
12. Favourite book?
Do picture books count? I really liked Christian Robinson and Mac Barnett's "Leo" about a little boy ghost. I've always wanted to illustrate a story about a ghost and I think they both did a fantastic job.
13. Favourite genre of music?
I'm a bit of an old lady when it comes to music. I'm mostly listen to classic rock and pop songs from the 50s and 60s. Lately though it's been Harry Nilsson and Paul McCarney's solo stuff.
14. What are your hobbies?
I really love thrifting. It is so exciting to search through a bunch of random old stuff to find a treasure. Flea markets are super fun too. Sometimes I'll take a half day at the end of a week just to go to one of my favorite thrift stores.
15. If you weren't an artist, what would you be?
I'm going to sound like an old woman again, but I am a fan of the Antiques Roadshow and I've thought it would be fun to be an appraiser. I think it could be fun to be presented with an object and have to figure out its history through what ever clues are given to you.