Instagram:
@yihansoo
1. What's your story? Where are you from?
I'm Yi Hansoo, born in Seoul, South Korea and I'm still living here. I've been painting for books and magazines as a freelancer. It has been 7 years so far. 이한수입니다. 남한 서울에서 태어나서 서울에서 살고 있어요. 7년전부터 일러스트레이터가 되어서 이제 다른 일은 안하고 살고 있습니다.
2. Tell us about your aesthetic.
Being twisted and sarcasm is the basis of my aesthetic. They're exactly how human beings actually are. 말장난이나 비꼶. 그게 사람들이 실제로 하는 짓들 같아요.
3. What is your favourite medium and why?
Pencil. Easy but very tricky to me. 연필. 간단하고 동시에 어려워요. 끊임없이 매력적이죠.
4. What is your artistic process like?
Reading books, my old diaries and short memos I write from time to time. And re-write them briefly down on my mobile. Then I sketch them sitting my desk chair in my study. I don't prefer to draw my things in a crowded spot like a cafe. But when I have to do sometimes like in the metro and bus being surrounded by people just to kill the boring time, I used to find out their panic faces for the contents in my drawings which are not very proper to be shown in those places. 주로 책이나 예전 일기들, 간단한 메모를 읽을 때 그리고 싶은 주제를 얻는 거 같아요. 그리고 그것들을 핸드폰에 대략적으로 다시 적어놓고, 작업실 책상에 앉아서 스케치를 시작합니다. 카페같은 공공장소에서 작업하는 걸 별로 좋아하지 않아요. 지하철이나 버스같이 붐비는 곳에서 스케치해야할 때도 있지만_주로 그냥 이동시간을 떼우기 위해_ 주위에 있는 사람들의 당황한 표정을 보게 되요. 제 그림의 내용들이 그런 장소에서 보여지기에는 적합하지 않은 것 같더라고요.
5. Who and/or what inspires your work?
Flea market, common souvenirs, winter, bodies, cigarettes, black humor, sarcasm, mystery, conspiracy, Russia, history, medieval times. 벼룩시장, 흔한 기념품, 겨울, 담배, 육체, 블랙유머, 말장난, 미스테리, 음모론, 러시아, 역사, 중세.
6. What role does art play in your life? How does it change the way you view the world?
I'm a left-handed person so I have no idea how the right-handed person takes an advantage since I haven't used my right hand to do something at all. Likewise, I have been drawing during all my life so far so I haven't recognized how the art actually works to my life and the world. Well, It's technically equivalent to soulmate for me. Yup, I'm not very lonely for it, come to think about it. But I will say that I'm a truly lucky guy for I'm doing my favorite thing to live. Actually, it now gives me lots of responsibility more than ever. 저는 사실 왼손잡이인데, 오른손 잡이로 살아본 적이 없어서 왼손잡이로서의 불편함을 잘 몰라요. 마찬가지로, 그림을 그리지 않으면서 지내본 적이 없어서 그림이 저에게 어떤 역할을 하고 있는지 깊게 생각해본 적이 없어요. 말하자면 대략 소울메이트일 수 있겠네요. 생각해보니 덕분에 외롭지 않은 인생을 보내고 있어요. 하지만 내가 가장 좋아하는 일로 생계를 꾸릴 수 있다는 건 매력적이죠. 하지만 많은 책임감을 주기도 해요.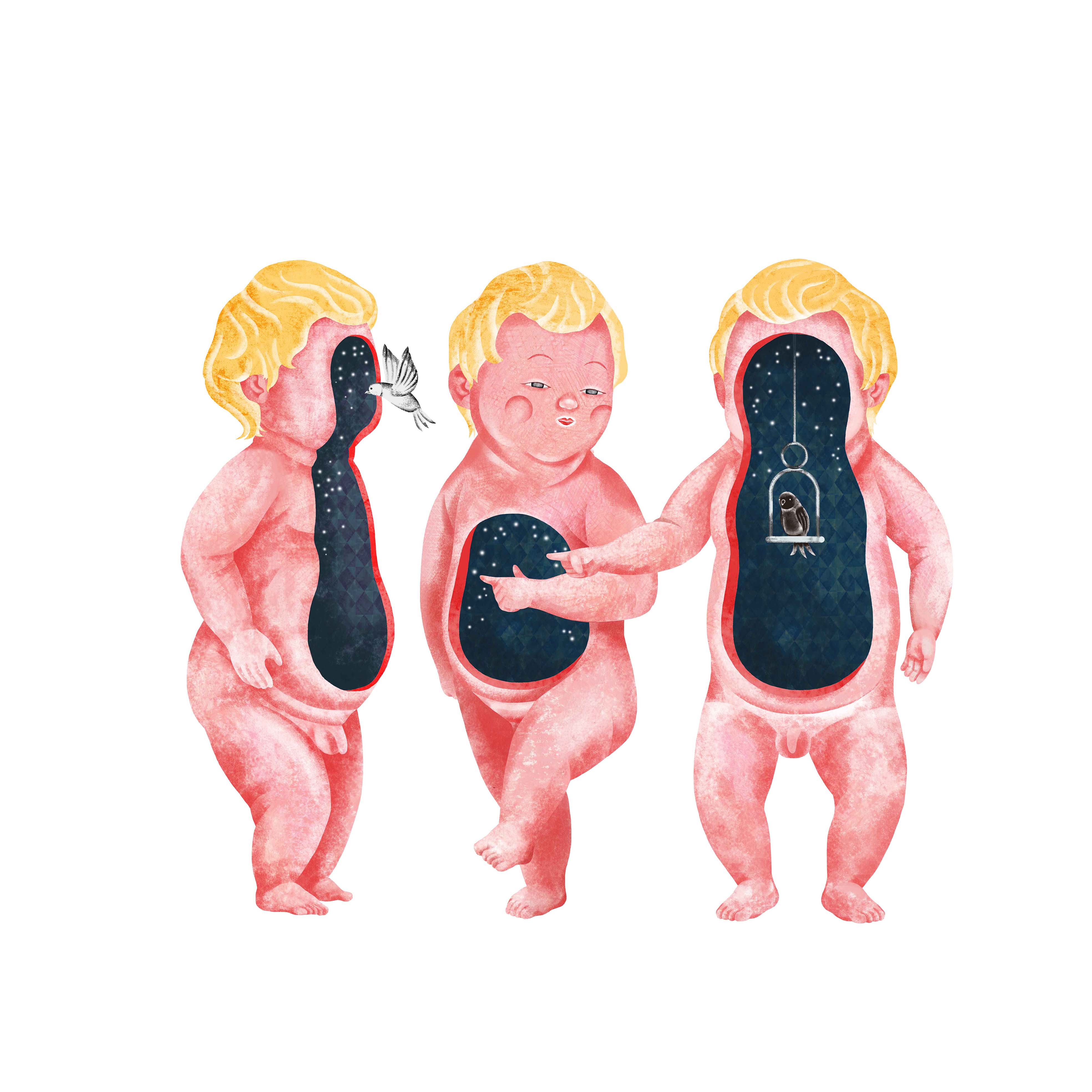 7. Where did you study?
In Seoul only. 서울에서요.
8. Where do you see yourself in five years?
I'm really not sure. Greenland probably. Just because, Greenland. 잘 모르겠어요. 글쎄요, 그린란드. 그냥.
9. What about in ten?
As far as I know, I just don't want to be in very hot countries where I can't deal with its intensely- no merciful-humidity. Summer is not my season. 한가지 확실한 건 더운나라서는 있고 싶지 않아요. 여름을 안좋아해서요.
10. What do you hope to achieve with your art?
I'm not into making cuties. I wanna show the very familiar things but people actually don't face to. Convincing them isn't my purpose, but everybody needs to know pretty things also can be fallen, and ugly things are very natural and also the valuable things in everywhere that we can exist for them, toilet, for instance. I just don't wanna hide them on purpose. some might say that arts need to be a pretty reward for this shabby vicious cruel life and messed world. Well, I don't see them that way. 귀여운 것들을 그리는 데에 관심이 없어요. 당연하지만 사람들이 외면하는 것을 묘사하는 데 관심이 많아요. 사람들을 설득하고 싶진 않지만, 예쁜 것도 타락할 수 있고 안 예쁜 것도 자연스럽고 우리가 살아가는 데 필요한 것들이란 걸 알 필요는 있죠. 예를 들면 변기같은 거. 그런 걸 일부러 숨기고 싶지 않아요. 어떤 이들은 삶이 고난하고 세상이 어지럽기 때문에 예술이라도 아름다워야 하는 게 아니냐고 말할지도 몰라요. 글쎄요, 저는 삶과 세상이 그런식으로 보이지 않아요.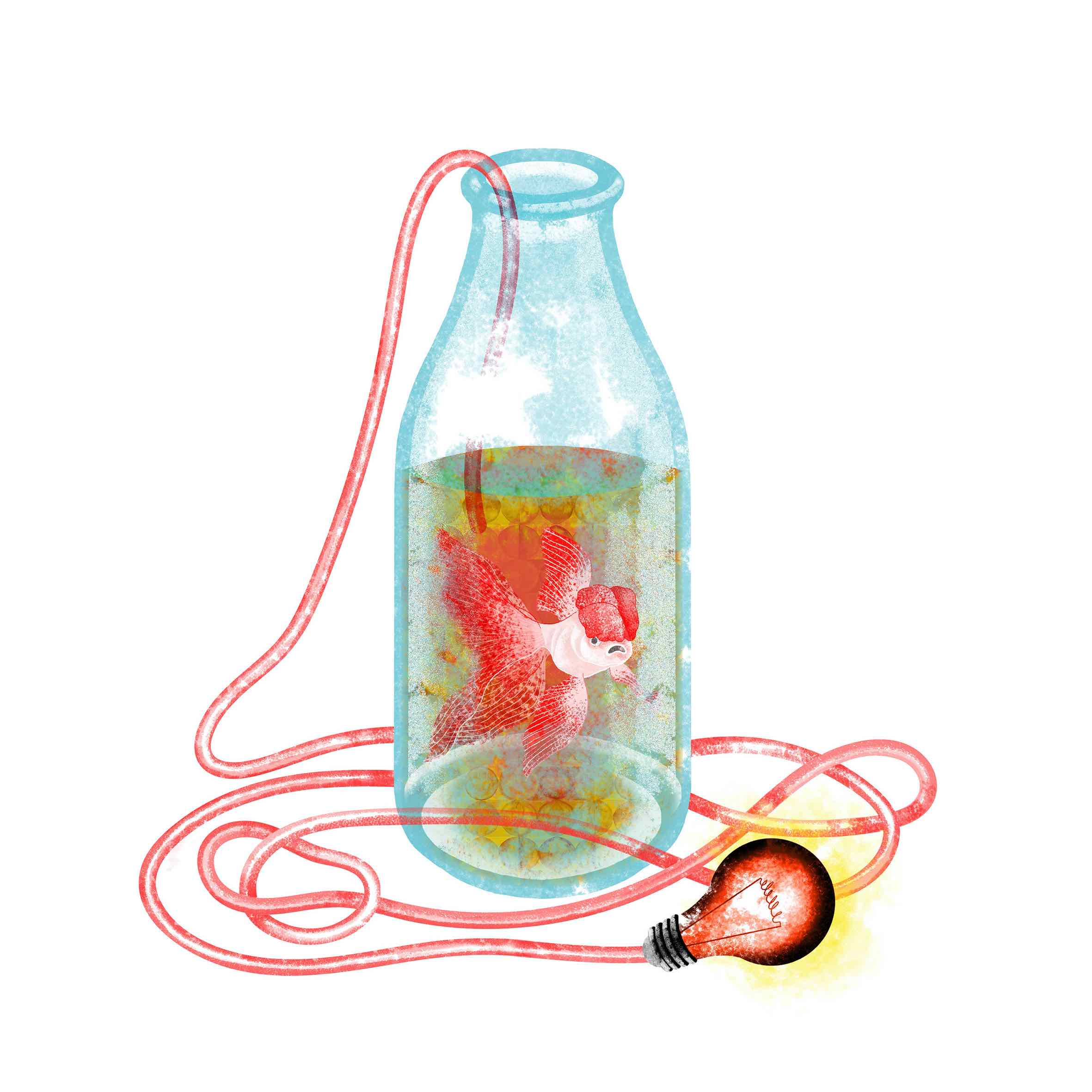 11. Now, tell us a little more about you as a person: what is your favourite food?
WHOPPER! 와퍼!
12. Favourite book?
It depends. I used to read Agota Kristof and Gabriel Garcia Marquez. In recent 5years, I've been reading books about microhistory and customs 그떄마다 달라요. 예전에는 아고타 크리스토프와 마르케즈를 많이 읽었어요. 최근 5년 동안은 미시사와 풍속사에 대한 책들을 읽고 있어요.
13. Favourite genre of music?
No genre, I just take it if it's good for me. 장르는 없고, 좋으면 들어요.
14. What are your hobbies?
cleaning. It brings relief to me. 청소. 안정감을 줘요.
15. If you weren't an artist, what would you be?
I have no idea. I just wouldn't want to be a cafe owner. It's definitely not my life. 모르겠어요. 그냥 카페 사장은 되고 싶지 않았을 거 같아요. 제가 할 수 있는 건 아니에요.