Instagram:
@yolish.designs
Facebook:
www.facebook.com/yolishdesigns
1. What's your story? Where are you from?
My name is Diana and I am from Chihuahua, Mexico. Right now I am living in Las Vegas . It is going to be almost three years ago since I married the love of my life and I recently opened my hand embroidery shop.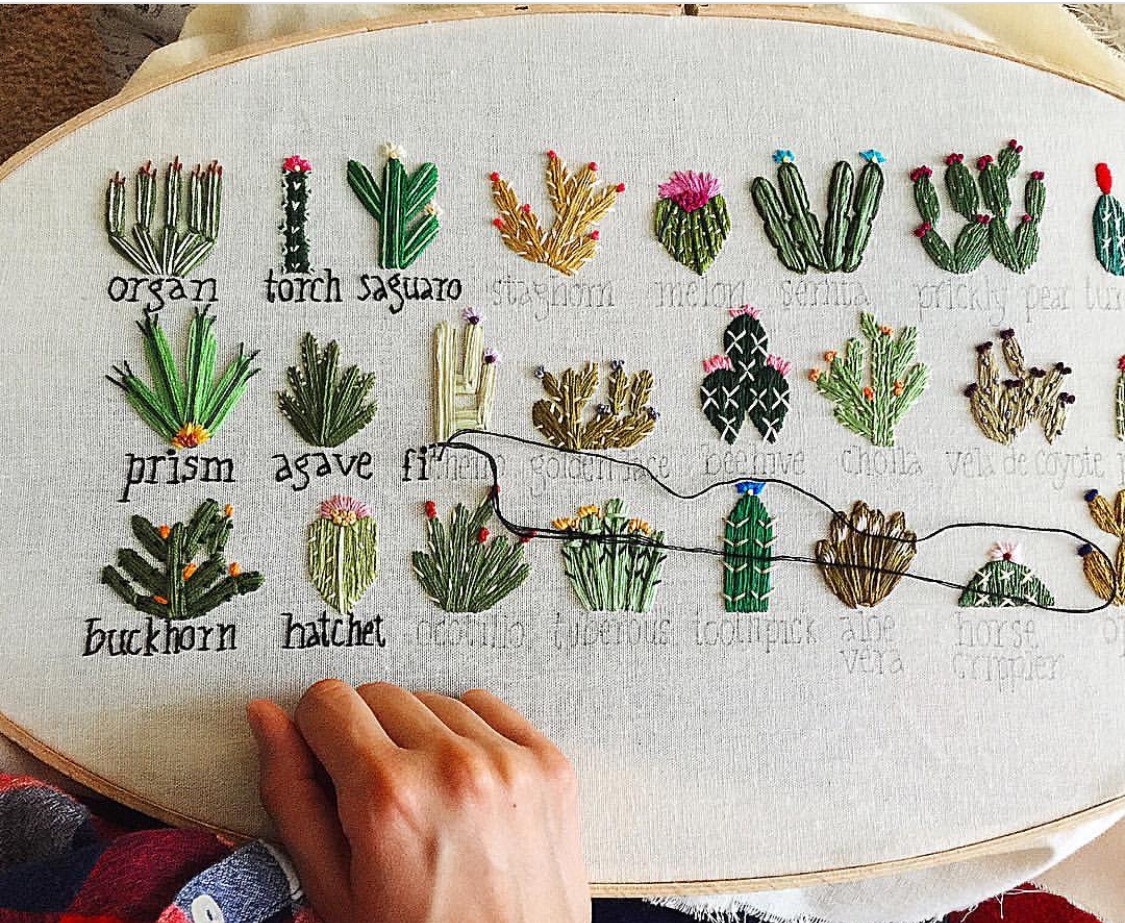 2. Tell us about your aesthetic.
My work is most of the time featuring nature. I love creating different textures with my floss. Flowers and cacti are an essential element in my embroidery. About colors I have to say I have a soft spot for pastels.
3. What is your favourite medium and why?
Definitely fiber arts, hand embroidery at the moment. One of the main reasons that I do embroidery is because you are able to create different textures with each stitch and because of how versatile it is. You can create shading , paint strike effects or even stitch the most simple lines and make incredible intricated pieces with it.
4. What is your artistic process like?
The process for my work usually starts with a sketch in paper, quite messy I have to admit ! I draw it in the fabric by free hand and then I start to pick the colors the way that I pictured them in my head .
5. Who and/or what inspires your work?
My main inspiration is nature. I am always sketching and stitching floral pieces or lately as I became the mother of so many cactus ,I fell in love with them and they are my main muse at the moment . On the other hand I sometimes need to express my own feelings through positive phrases or powerful words that give me motivation through life.
6. What role does art play in your life? How does it change the way you view the world?
Art has always being a huge part in my life. Since I was very young my mother taught me to do embroidery and crochet. As I was getting older I got into painting and drawing but art has never been as important in my life as it is right now. I keep learning from what I do and falling in love with it every day. It totally helps me to see this world in a more inspiring and positive way.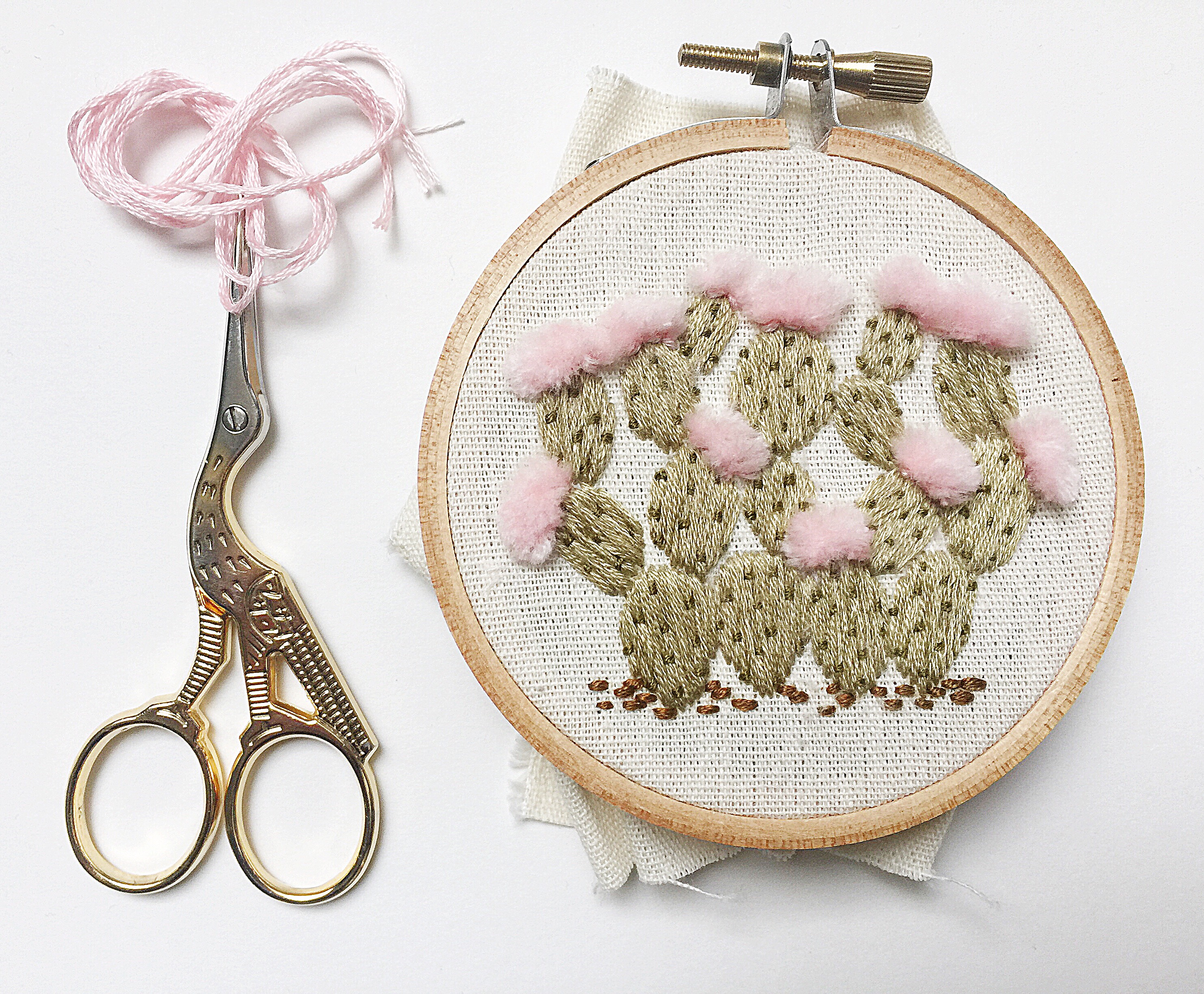 7. Where did you study?
I started my studies back in Mexico and I continued here in Las Vegas. I am in the pursuit of my masters degree for sure !
8. Where do you see yourself in five years?
In five years I am hoping to be running my business in a bigger scale. I would love to teach other people about embroidery and have the opportunity to make workshops around the world . Starting a family with my husband and earning the highest level of my degree is something I am already working on.
9. What about in ten?
Oh goodness ! Ten years is difficult to think about. I don't know exactly where I would be but I am hoping that wherever it is that I am that I am feeling fulfilled and happy with how I conducted my life. I hope to always feel as passionate and happy as I feel right now about my art and my life.
10. What do you hope to achieve with your art?
I hope to inspire others to express themselves with whichever art they love. Leaving a positive message and being part of beautiful memories with the people that have ever get one of my pieces is something that excites me and keeps me motivated.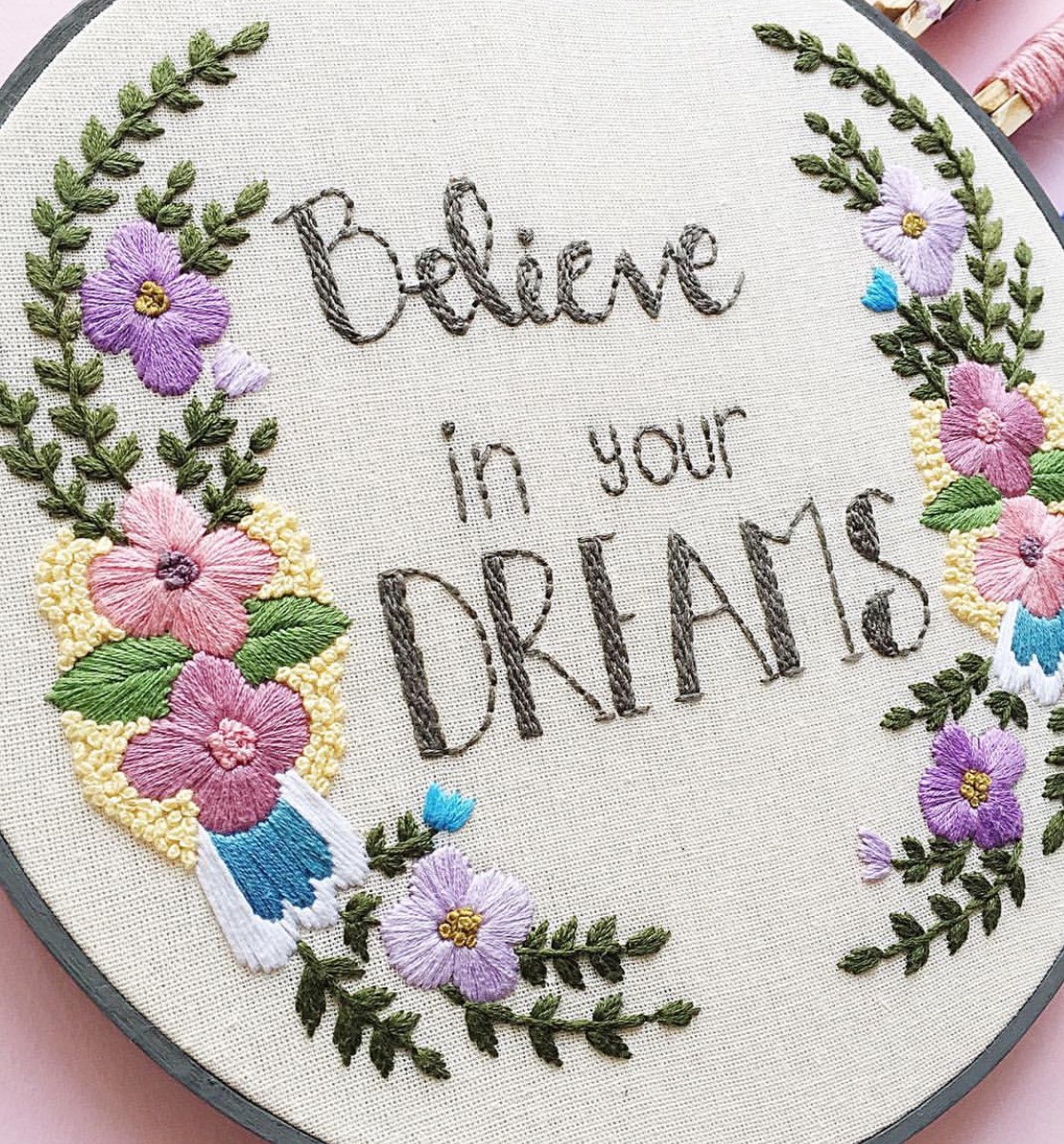 11. Now, tell us a little more about you as a person: what is your favourite food?
Since I am from Mexico I have to say Mexican food is my biggest weakness! I love tacos, burritos, chiles rellenos and pozole! And also , you would see me with an iced coffee in my hand as much as you would see me with a needle and thread!
12. Favourite book?
Oh this one is difficult, I don't think I have a favorite. I am constantly changing genres but I love autobiographies and self growth books!.
13. Favourite genre of music?
Everything Beatles , Coldplay and Instrumental for those endless embroidery nights!
14. What are your hobbies?
To give myself a break from embroidery I enjoy going in every adventure I can with my incredible husband, dancing ,reading , weaving, and coffee talks with friends and family.
15. If you weren't an artist, what would you be?
I never consider myself an artist but if I wasn't doing what I do right now , I would've love to be an astronaut !!!.