Instagram:
@zimteemo
1. What's your story? Where are you from?
My name is Gurleen Rai and I started an illustration/ audio visual studio/ home for wayward cats called Zim + Teemo. I'm a Canadian currently living in New Orleans, Louisiana. I'm very imaginative and visual story-telling is what appeals to me. I've always created art but I spent about 4 years traveling the United states by car, canoe, and on foot gathering inspiration, and learning about myself along the way. This curiosity for people and places inspires my illustration. I started illustrating professionally just over a year ago when I finally felt centered enough to be in one place and really take my work seriously.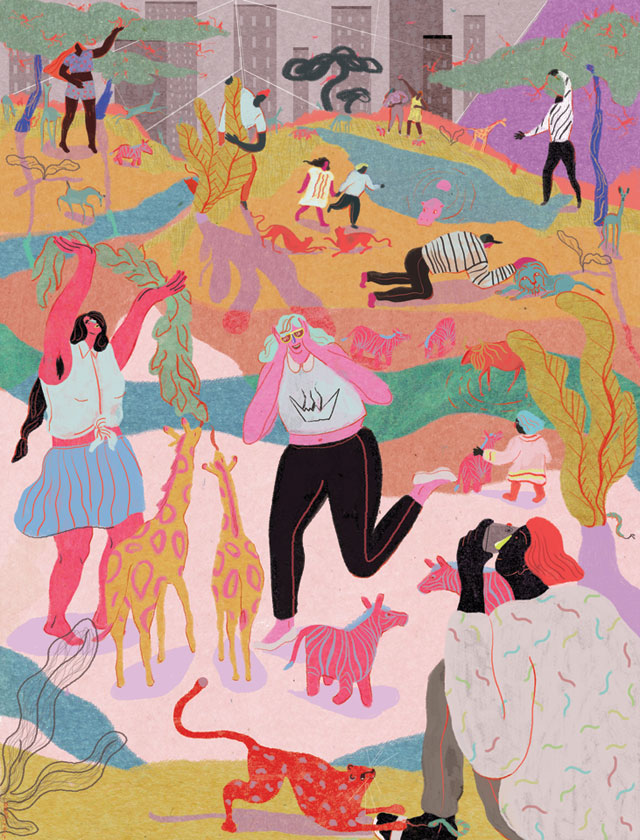 2. Tell us about your aesthetic.
I'm still defining my aesthetic and don't feel tied down to one style. One thing I try to do is focus on good composition and interesting colors.
3. What is your favourite medium and why?
I've found mixing mediums works well for me. Depending on the project I may use cut paper that is scanned then worked further in Photoshop. Right now I'm working on comics and have chosen to do them by hand using ink and gouache. Being flexible with mediums allows me to choose the most appropriate one for each individual project.
4. What is your artistic process like?
If I'm working on an editorial illustration I like to take the time to read/reread the article. From there I'll take out key words, or phrases, and write them down. After this I might do something else like take a walk to let the concept come to me naturally. I'll then draw out some ideas, maybe make some abstract cut paper illustration. After all this I start working on concept sketches. Once a concept is approved I'll move forward toward the final.
5. Who and/or what inspires your work?
My work is often inspired by the people and things I see on a daily basis. I love observing people and looking for the things that make a person unique.
6. What role does art play in your life? How does it change the way you view the world?
Art is a major focus in my life. It's been a deciding factor in where I've lived, my travels and lifestyle in general. Creating art gives me a sense of purpose and helps me realize what truly matters to me. I've really shaped my life around the ability to be a creative person, I've found I have simple needs as long as I can make things.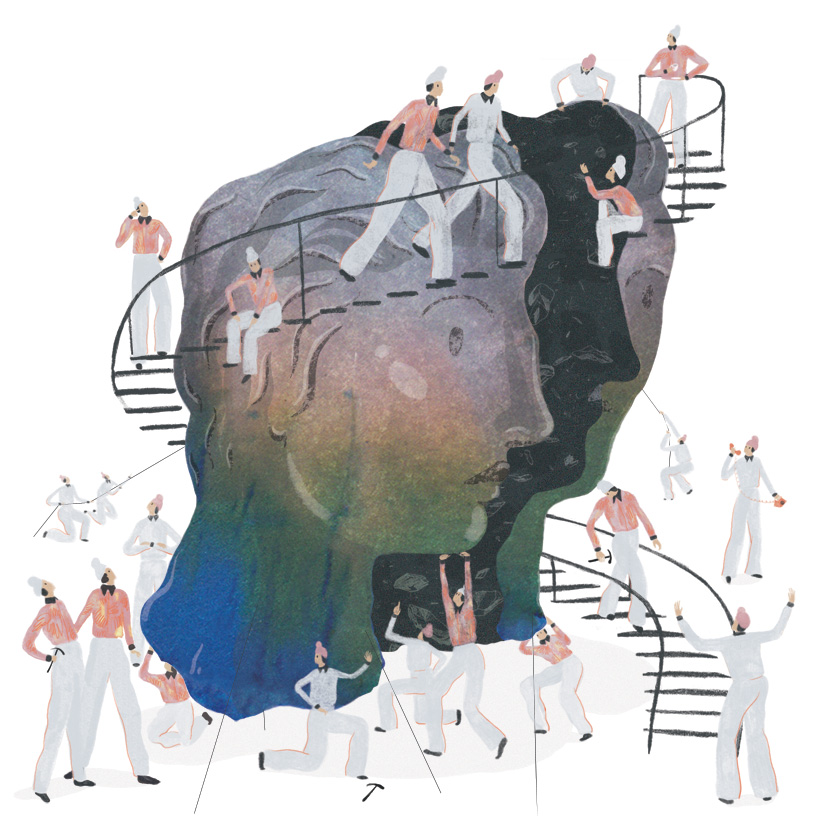 7. Where did you study?
I earned a Bachelor of Design in Fashion Design from Ryerson University in Toronto, Canada and an Associates in Illustration from the Fashion Institute of Technology in New York City.
8. Where do you see yourself in five years? Working in an agency?
Its impossible to say where I'll be living in 5 years since I have a tendency to move quite a bit but it'd like to continue telling stories through art. I'm planning to keep working on comics with F. Anthony Shepherd. We have also been working on animation/audiovisual projects. We're currently working on a couple large projects that I hope to share in the near future. Hopefully I'll get more opportunities to showcase my work.
9. What about in ten?
I don't like to plan too far ahead so I'm not ready to think about where I'll be in 10 years. I like to leave some room for adventure and the unknown!
10. What do you hope to achieve with your art?
I'd like to create work that shows diversity and a range of different people and experiences. One of my criticisms with media and popular culture is the lack of diversity. There are so many unique individuals and stories, to be able to tell even a fraction of them would be an honor.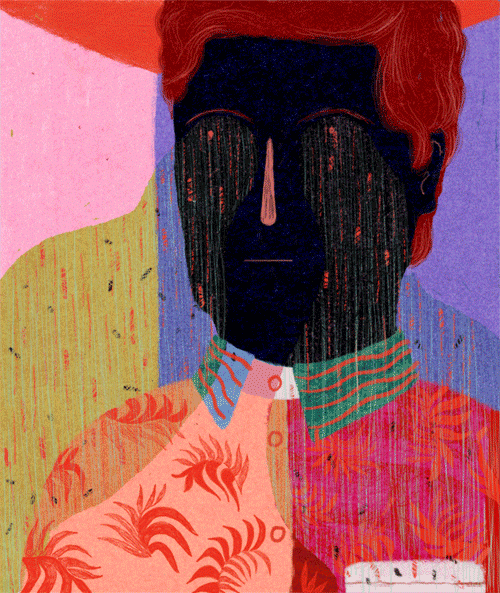 11. Now, tell us a little more about you as a person: what is your favourite food?
I have a German Shepherd named Rosie. I picked her up in Compton, California while traveling. Rosie Comic is about her and our life with five cats.
12. Favourite book?
The Autobiography of Malcolm X is one of my favorite books. That book is how F. Anthony Shepherd and I met.
13. Favourite genre of music?
I was raised in a somewhat strict Sikh home so listening to music wasn't encouraged so I've never had a strong connection to music in general. My partner at Zim + Teemo, Anthony, is a musician, and while I'm working he'll also be working on his music. His music is very ethereal and atonal.
14. What are your hobbies?
When I'm not in the studio I love to go out in nature and get away from the computer and technology in general. One of my favorite places to hike is the swamp because there's all kinds of activity hidden away.
15. If you weren't an artist, what would you be?
If I wasn't an illustrator I'd probably be a dog walker!