Instagram:
@ziv_lahat_art
Twitter:
@zivlahatart
Facebook:
www.facebook.com/ZivLahatBlog
Tumblr:
zivlahatart.tumblr.com
Scoiety6:
www.society6.com/zivou
Blog:
zivlahat.blogspot.co.il
Website:
www.zivlahatart.com
1. What's your story? Where are you from?
My name's Ziv Lahat , 36 Years old. I live in Israel for now, I was born in Ivory Coast from an Israelien Parents that worked there. I'm an Illustrator,Painter,Lowbrow Artist , Cartoonist and Fashion Designer. In my early age I was influenced by many cultures – especially Ethnic, which influenced most of my art. Later on in life I studied fashion design in Paris (ESMOD) and later took part in exciting fields in the fashion world, including advertising of my own created costumed shoes,collaborate with a few sneakers shops and an article about my shoes art,Styliste,Personal Shopper and Fashion Designer for a few companies in the industry. I am influenced by many diffrent artistic fields that accompanied me most of my life, such as street art culture(Graffiti,Toys,Comics,Vinyl Toys,Tags,Characters etc..), kustom kulture (50′s, hot rods, pinstriping, exotica), history, Ethnica, music (Ska,Reggae,Hip Hop,Psychobilly,Jazz,Rockabilly,Punk,Gothic and Tribal Music) tattoo culture, Primitive art, Lowbrow and many more, which influenced my designs,art and ideas. So What's my second name in the Graffiti/Street Art...I took this name from the Mighty and Legend Miles Davis Kind Of Blue Album....So What's playing always in my head when I think of drawing something and after that I mixed with other genres music. I love to create my own style with a lot of thinking and good vibes...From Tiki to Psychobilly from Ska to Surf etc...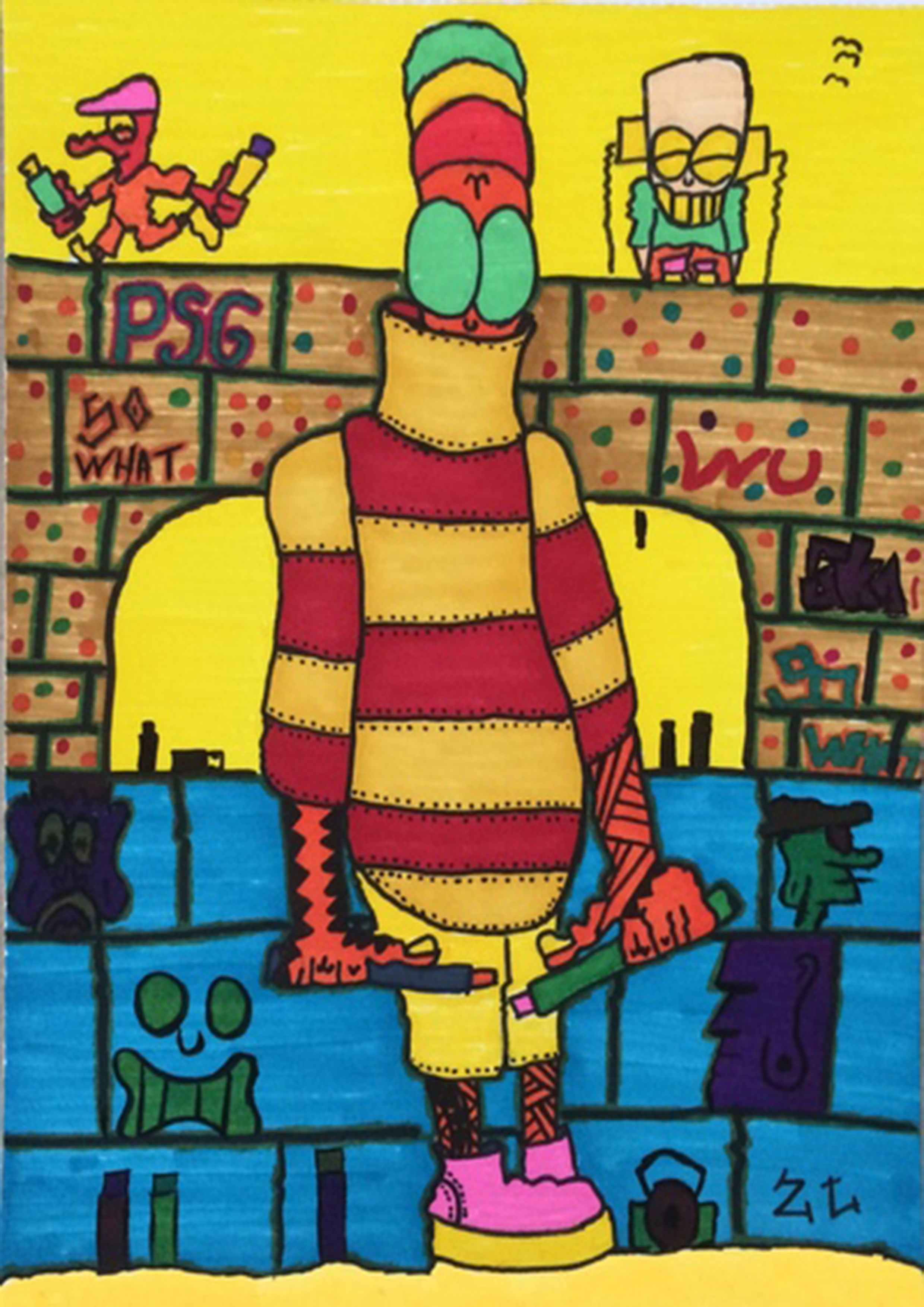 2. Tell us about your aesthetic.
My aesthetic change each day..One day I can be a rastaman second day I can be a ska person and other day I can be a psychobilly monster surfer...but always with the good vibes on it.
3. What is your favourite medium and why?
Well It depends I really love to draw with a simple pen because I love to feel each line that I draw but I love to work to with Markers,Brush,Pastel,Acrylic,Spraycan,Aquarelle etc... For more and more I started to work with Wacom...It's really easy and I can feel the line like I draw with any pens,markers or brush.
4. What is your artistic process like?
My artistic process start: First I put a music that will give me the vibes on the paint. Second searching for any ideas and read a lot of articles etc..Third start to sketch and paint my art with drinking a good espresso :-) .
5. Who and/or what inspires your work?
My mom 1st of all after that I've a huge list of artists that Inspire me it'll take a blank page for it for example: Ed Roth,Von dutch,Bob Marley,Shawn Dickinson, Ron English Keone Nunez,Filip Leu,Tom Laura, Ron English,Risk,Mist,Tilt,Cope2,Suluape Familly,Chaz Bojorquez, Whang Od,Mr GTiki,Von Franco,Dondi,Tats Cru,Laurent Purotu,Roonui,Tim Hendricks,Doug Horne,Dave Burke,Damian Fulton,Dirty Donny,The Pizz,Frank Kozik,Horiyoshi 3,Speedluck,Keith Weesner,Sol Rac,Shag,Tiki Shark ,Sailor Jerry, Trey Surtees,Knuckle,Grimb,Ware Mad Sculpture,Lucky Rudy,Hoodoo Man,Holiday Paint,Masa Sculpt,Psycho Graphix,Monster Farm , Samoan Mike,Croc Tatau,Jeroen Franken,Thierry Rossen,Neil Bass,Jeroen Haamers and many more.... But I can say that I take my inspiration from cultures,history,ethnic,Tattoo,Polynesian culture,Psychobilly,Surf,Skate,Monster,Cartoon,Comics,Hip Hop,Street art,Urban art,Lowbrow art, TikiCulture, Punk, Ska, Rocksteady, Reggae, Roots, Dub, Rastafari, Zen, Soundsystem, Tatau, Doo wop, Old school, Exotica, Rockabilly, Jazz, Graffiti, Art by himself and many more....
6. What role does art play in your life? How does it change the way you view the world?
My art for me after my family it's the second role in my life...it relaxin and passion me in each draw that I paint...I just love it. Well it brought me to understand the roots on each other from where we're from(Culture,Religion,Art etc..)..and to understand that our world can be in good vibes if we'll believe on it.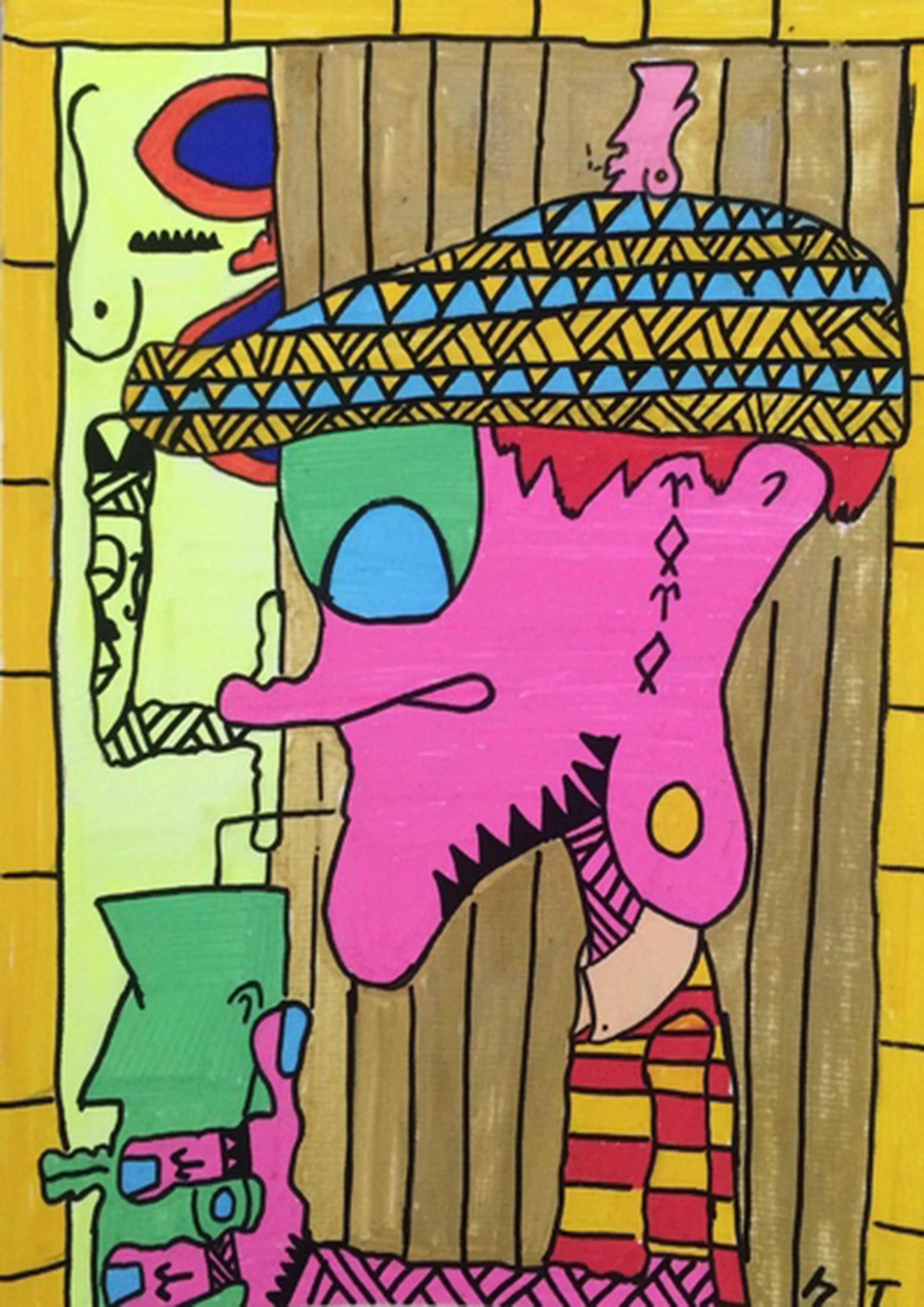 7. Where did you study?
I studied Fashion Designer at ESMOD in Paris,France.
8. Where do you see yourself in five years? Working in an agency?
In five years I want to believe that my art will grow and people will love,know what I create each and everyday and to be part of more events and have a self exhibition at more galleries and to collaborate with more companies too. Well if I could live without anything and just art it could be good.
9. What about in ten?
To be more and better works hard to have what I love a lot.
10. What do you hope to achieve with your art?
I hope to achieve with my art that people will understand who I'm to feel my good vibes and colorful too. To have more exhibitions and collaboration.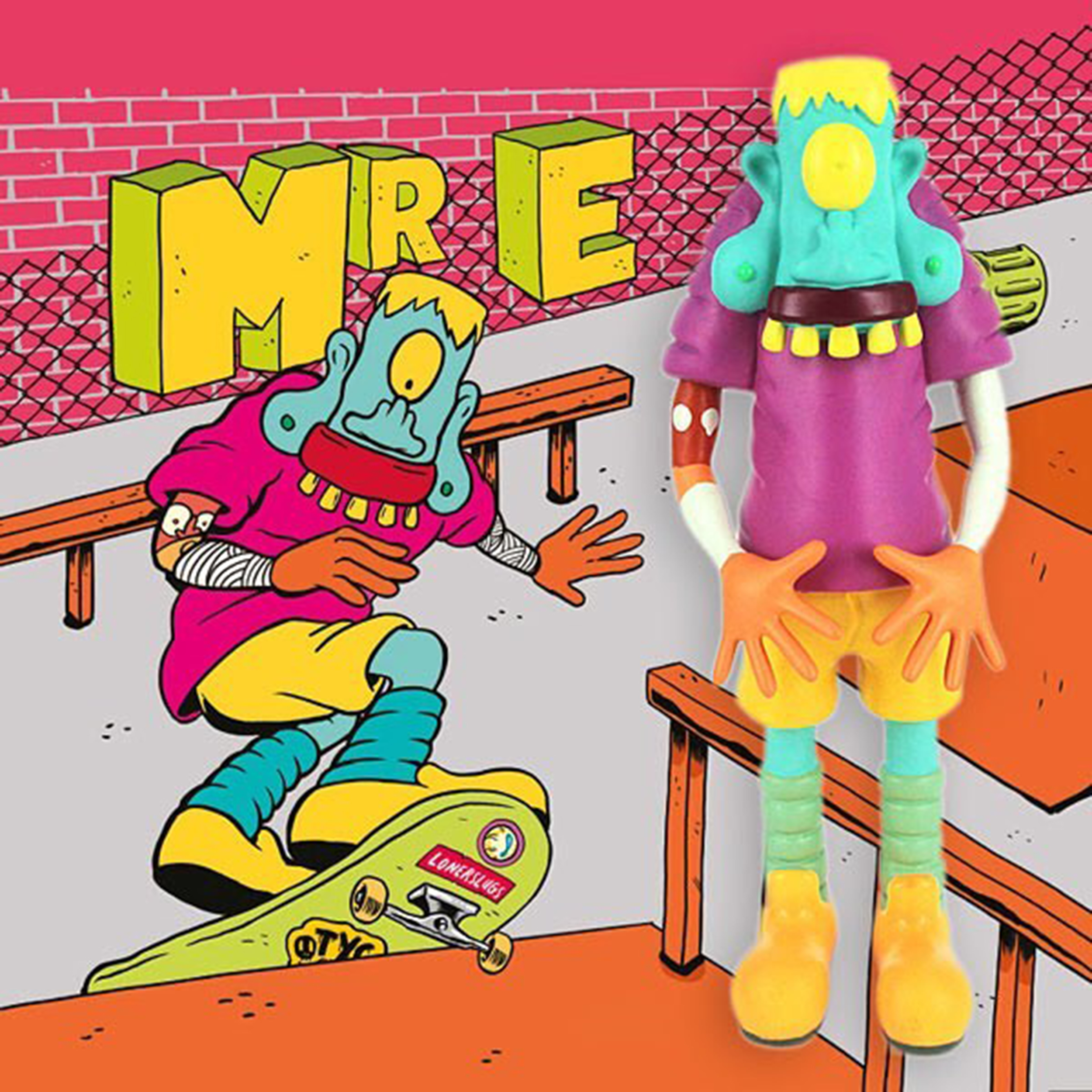 11. Now, tell us a little more about you as a person: what is your favourite food?
I'm colorful person,Love to know anything,Happy person,creative,good friend,chillin and relaxin person. My favourite food's Ramen and especially I really love Japanese Food.
12. Favourite book?
A book of five riings by Miyamoto Musashi.
13. Favourite genre of music?
Hip Hop,Rap,Soul,Jazz,Psychobilly,Rockabilly,Exotica,Punk,Skinhead Reggae,Oi,Hardcore,Gothic,Roots,Reggae,Dancehall,Ragga,DUB,Ska,Rocksteady,Ethnic music,Surf music,French classics,Country and many more...
14. What are your hobbies?
Drawing,Walking,Reading books,listen to music,wine,cocktails,my family,sea,travel,movies,to go to museums and exhibition...
15. If you weren't an artist, what would you be?
Anthropologist.