Instagram:
@zoeboltt
Website:
www.zoeboltt.co.uk
1. What's your story? Where are you from?
I was born in London and grew up just outside the city in a town called High Wycombe. I feel I had a very privileged and happy childhood, growing up with a variety of unusual pets from African land snails to Silkie chickens! My Mum is from Ireland and my Dad is from Zimbabwe, so I was lucky to go on exciting adventures across Ireland and Africa from a young age, and I feel particularly my trips to South Africa have influenced my love of bright colours and patterns today as well as my hunger for adventure! I was always my happiest when colouring or making, and of course Art was my favourite subject at school. When I was 6 I was so engrossed in my colouring book I forgot I needed a wee!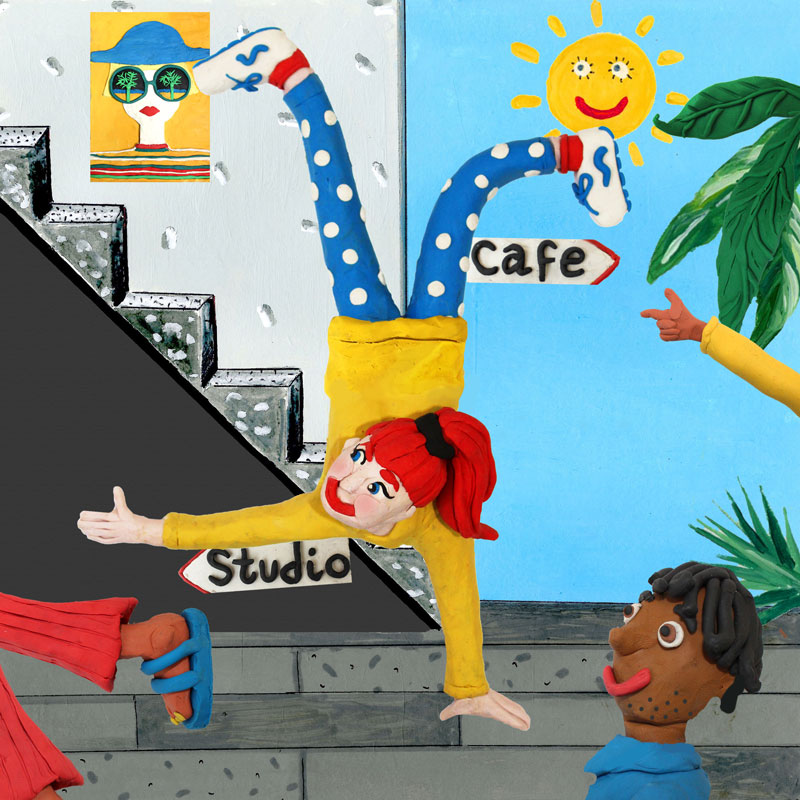 2. Tell us about your aesthetic
Well, I call myself 'the plasticine queen' as all of my finished pieces contain plasticine! This makes my style super soft, friendly and often humorous! My work also follows a retro style, jam packed full of bold colours and patterns inspired by the 80s and 90s. I photograph each plasticine model and usually digitally enhance it and collage elements together in Photoshop. Sometimes I add artificial drop shadows to emphasise the nostalgic feel and make the imagery really pop!
3. What is your favourite medium and why?
I'll let you guess that. I'll give you a clue, it rhymes with queen ;)
4. What is your artistic process like?
Once I get an idea I start scribbling it down in my sketchbook, before adjusting it and refining it into a pencil sketch. This then sort of becomes the template for the plasticine to take shape from. I need to figure out the scale of the piece, the colours I'm going to use and its rough composition before diving into the plasticine version or the idea will literally fall flat! Last time I dove in blindly, I was left with a plasticine chicken with no legs! the 'leg', which was actually a Biro set into plaster of Paris, couldn't handle the weight of the chicken, and the body sunk down until the Biro was piercing through the chicken head!
5. What and/or who inspires your work?
Instagram! I get hooked into the lives and practice of other artists, it's lead me on to network with like-minded creatives and even make some cool friends. If ever I feel uninspired, after a good scroll through the Insta feed I'm buzzing to get making and share it on my profile and see what reception it gets from my followers. A few of my absolute favourite Instagrammers/Illustrators have to be Jack Sachs, Lynnie Zulu and Yoko Honda. They all share a vibrant, upbeat style. Jack Sachs' digitally rendered 3D work influences my traditional 3D, whilst Zulu influences a tropical vibe and Honda takes me back in time with her revival of 80s Americana. As well as taking influence from up and coming artists, elements of my childhood have subconsciously sparked an influence. I love rewatching old episodes of children's late 90s/early noughties TV shows like The Rugrats, Arthur and Tracy Beaker. It's something about the boldness of colours, the stylisation of characters of that era that speak to me more than a lot of children's illustration today.
6. What role does art play in your life? How does it change the way you view the world?
Without sounding cheesy, art has always played the main role in my life, leading me on my path from childhood to adulthood. It lead me to follow my passions, to go to art school and now to pursue a creative career. It changes my view on the world because my creative outlook forces me to look twice at everything, to find the positive in a negative, to find the fun in something mundane (I call it the 'FUNdane'). Art has given me a purpose to get up every morning, so that I can make a difference with my work. I feel an artist's visual style is a direct projection of their personality, their interests and beliefs, so through engagement in my practice and those of others, art makes me feel more myself than any other pursuit could. It's helped me to be an individual and not just a sheep following the crowd.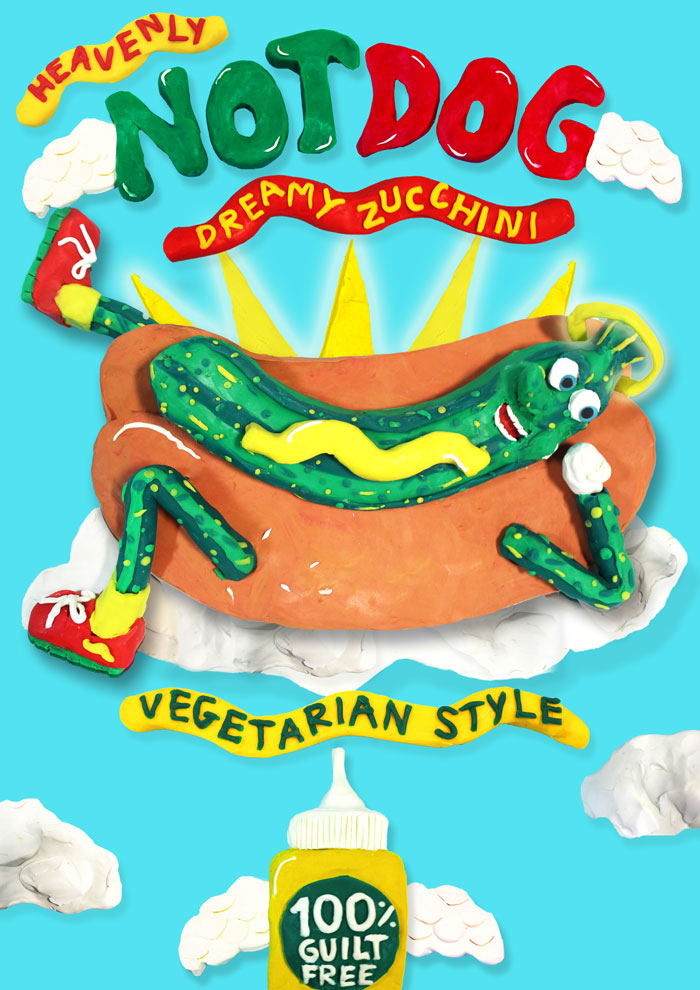 7. Where did you study?
I began art school at Central Saint Martins, London for an Art and Design Foundation Diploma. Here I found my love for illustration, I'd spend my evenings searching in comic shops in Shoreditch and drooling over colours and shapes. I was discovering art that wasn't like the realistic paintings we studied at school, it was abstracted, exaggerated, an escape from the greyness of London. And so, after finishing my diploma I chose to escape London literally, and studied an Illustration degree at Falmouth University, Cornwall. I was attracted by the exoticness of it all, the roads lined with subtropical palm trees, like a quaint, Los Angeles on a tiny scale, at the very bottom of England. These surroundings hugely influenced my work, I even got tattooed with a pink flamingo and Cornish palm leaves when I left to take a piece of the place with me forever.
8. Where do you see yourself in five years? Working in an agency?
Yes! Only I don't want to just be an illustrator for an agency, I would love to be a part of a creative team, a creative director at an advertising firm perhaps! I have such a love of illustration in all forms that I yearn to be in a career which not only allows me to pursue my freelance work in my own time, but to network and commission other artists (that's why I've moved back to London!). I'd also love to get into quirky areas that could link with my current practice, maybe toy design, or translating plasticine skills into the world of cakes and confectionary. I've worked with POP Bakery, who specialise in personalised cake POPs! I'm a busy bee and love working on multiple projects at once, I couldn't just stick with being an illustrator as my sole job, unless I could lead an incredibly fast paced lifestyle as a freelancer with lots of commissions flowing in.
9. What about in 10 years?
Hopefully, I'll be the managing director of an advertising agency! Or maybe I could have become well established as an illustrator to have enough projects to keep me stimulated and excited. Maybe I'll set up my own business, as there's a demand for creative kid party ideas and I'd love to lead workshops in plasticine play! Watch this space, who knows where I'll be in 2027.
10. What do you hope to achieve with your art?
My main goal is to make people smile or hopefully laugh. I personally don't believe in creating anything that may make people feel sad, there's enough misery in the world, so why magnify that through art? I feel my work is an acquired taste, it's a little bit tongue in cheek and overbearing at times, but so am I and I wouldn't have it any other way. If I can just make one person feel a little happier from looking at a plasticine zucchini with a smiley face, then at the end of the day I'll be satisfied and keep doing what I'm doing. One of my greatest achievements was at my degree show, where I tried to take the audience back to childhood by installing a plastic chair and table set along with framed originals of my pieces. When I came to view it, there was a 6-year-old girl sitting at the table and engaging in my work which was everything I'd hoped for and more. I want everyone to feel like they're 6 years old again when they look at my art.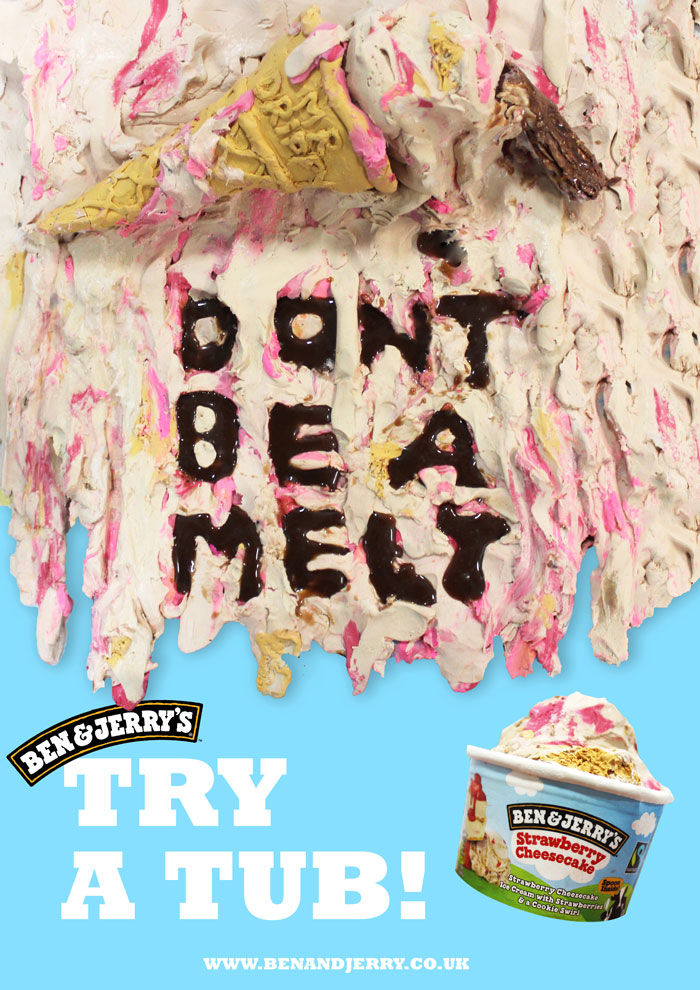 11. Now, tell us a little more about you as a person: what is your favourite food?
Favourite food to eat? Lasagne or Nandos chicken. Favourite food to look at? Cake pops, Haribo, Mr Whippy ice-creams. I just wish there was a food that combined my favourite flavours with my favourite aesthetics – hey, maybe that's what I'll be doing in 10 years, eh?
12. Favourite book?
A book called 'Fantastic Plastic', it's like a visual overload of plastic kitsch collectable ornaments from tomato shaped ketchup bottles to the toys you used to get in cereals. The characters, the plasticness, the nostalgia, the colours, everything about it constantly influences and encourages my practice!
13. Favourite genre of music?
80s pop! Or any contemporary bands that can reconstruct a retro vibe in a fresh way like Justice, for example. But ultimately anything upbeat that will get me moving and motivated to get creating! I always have to make playlists to work to, my current playlist has a lot of instrumental tunes, War by Hypnotic Brass Ensemble is my favourite right now.
14. What are your hobbies?
I really want to be able to say that I can juggle or ride a unicycle, but in all honesty Illustration is my main hobby. I love going to markets, car boot sales, thrift shops etc. to collect vintage clothes, old toys or books, but ultimately that relates back to gaining inspiration for my art! I do love attending the gym regularly as it keeps me pumped and positive, often after a tough day in the studio a good session will rid me of doubt or artist block.
15. If you weren't an artist, what would you be?
I would love to be a primary school teacher! I could shape young minds to be creative, and I'm sure I'd get to play with plasticine too. I'd also decorate the classroom with loads of fun artworks. I'd probably get too carried away with illustrating each letter of the alphabet and forget to mark any books…maybe I'll stick with being an artist for now.